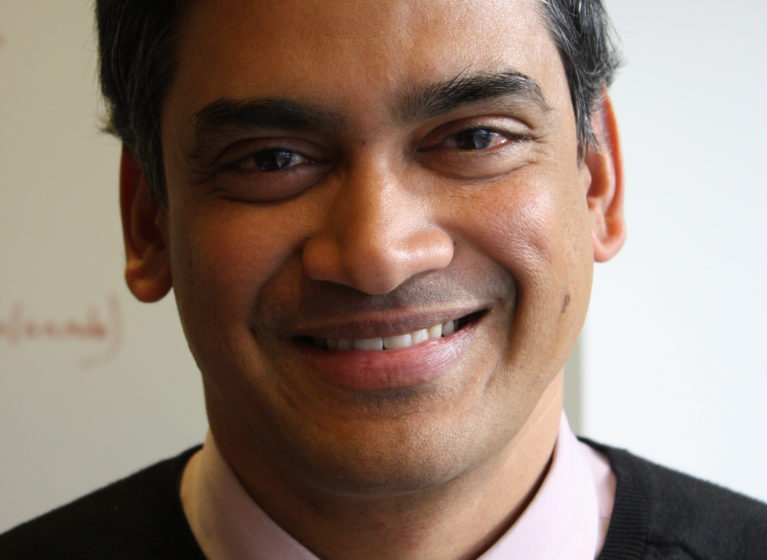 Steven T. DeKosky, MD, Vice President and Dean of the University of Virginia School of Medicine, recently announced the appointment of Kodi S. Ravichandran, PhD, to the position of Chair of the Department of Microbiology. Dr. Ravichandran, the Harrison Distinguished Professor of Microbiology, joined the department in 1996 and was appointed Professor of Microbiology in 2004. He has served as Director of the Center for Cell Clearance since 2008.
"I am extremely pleased Dr. Kodi Ravichandran will lead the UVA Department of Microbiology," said Dean DeKosky. "An accomplished educator and scientist, Dr. Ravichandran will lead our program to new frontiers in terms of groundbreaking research."
After receiving a degree in Veterinary Medicine from Madras Veterinary College, Dr. Ravichandran received his PhD in Molecular and Cell Biology from the University of Massachusetts at Amherst in 1992. He performed his post-doctoral work in the Division of Pediatric Oncology at the Dana-Farber Cancer Institute, Boston. After a year as Instructor at Harvard Medical School, Dr. Ravichandran joined the faculty at UVA.
"I feel truly honored and excited to be selected to lead UVA's distinguished Department of Microbiology," said Dr. Ravichandran.  "I very much look forward to the challenge of promoting cutting-edge and collaborative research, graduate and medical education, and faculty development."
Dr. Ravichandran's research focuses on apoptotic cell clearance and intracellular signaling pathways regulating T and B lymphocyte function. The daily clearance of billions of apoptotic (dead) cells is fundamentally important in maintaining health. Failure to promptly and efficiently clear apoptotic cells can lead to chronic inflammation, autoimmunity and developmental defects. Dr. Ravichandran's laboratory addresses how the dying cells are recognized by phagocytes, ingested, and removed without harm to the host. His laboratory is also addressing how adapter proteins and chemokine receptors regulate specific checkpoints during T cell development in the thymus.
Dr. Ravichandran has authored more than 95 articles in peer-reviewed journals, including multiple publications in top biomedical journals such as Cell, Nature, Science, Nature Immunology and Nature Cell Biology . Dr. Ravichandran serves on many National Institute of Health review panels and other granting agencies, and also serves as a reviewer for numerous biomedical journals. He has been an invited or plenary speaker in many national and international meetings and is a recognized world leader in the fields of apoptosis and cell clearance.
Dr. Ravichandran also has distinguished himself as a leader in research and teaching at UVA. As the Program Director of the Immunology T32 Training Grant, he oversaw its successful competitive renewal in 2010. He also was honored with the Robert J. Kadner Mentoring Award for graduate and post-doctoral training.