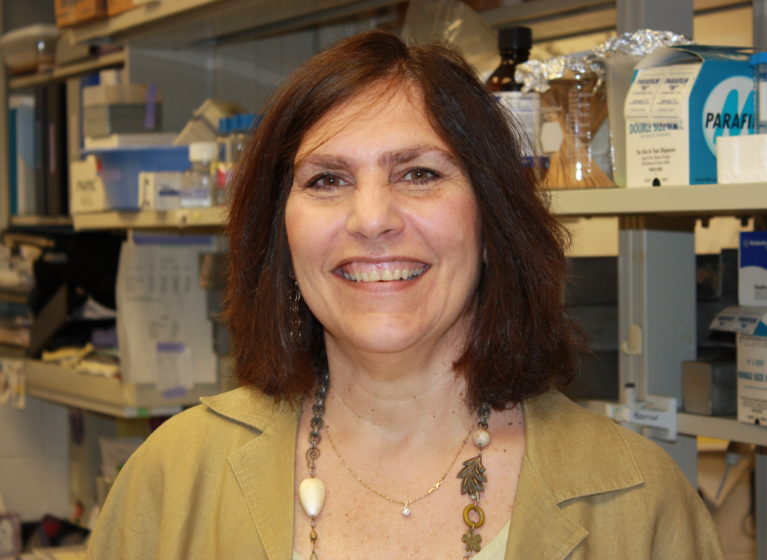 Breast cancer researcher Amy H. Bouton, PhD, was recently appointed Associate Dean for Graduate and Medical Scientist Programs at the University of Virginia School of Medicine.
In her role as Associate Dean, Dr. Bouton will be responsible for overseeing and supporting all aspects of graduate studies at the UVA School of Medicine. This includes oversight of the Biomedical Sciences Program (BIMS), the Graduate Programs Office, and coordination of graduate studies across departments and schools within the University.
"I am very pleased Dr. Bouton will lead our graduate scientist programs. Dr. Bouton is a shining example of a teaching scientist and is well suited to shaping our program as we focus on teaching our students not only basic science research, but also how to succeed in the world of translational research," said Steven T. DeKosky, MD, vice president and dean of the UVA School of Medicine.
Dr. Bouton, who has been at UVA since 1991, is a professor of microbiology. Her lab has two major research interests – understanding mechanisms by which breast cancer cells become resistant to drugs commonly used to treat the disease and discovering how a key component of the tumor microenvironment, the tumor-associated macrophage, contributes to breast tumor growth and metastasis. According to Dr. Bouton, the relationship between tumor cells and factors within the tumor microenvironment is fundamental to understanding aggressive tumor behavior and therapeutic resistance.
"Graduate education is one of my greatest passions and I look forward to working with our students and faculty to enhance their scientific training and teaching," said Bouton.
Dr. Bouton is a permanent member and chair of the Tumor Cell Biology Study Section of the NIH. She has served, or currently serves, on ad hoc review panels for the DOD Breast Cancer Research Program; Susan G. Komen Foundation; Dutch Cancer Society; Government of Chile, FONDAP Advanced Research Centers (2001-2005); Arthritis Research Campaign, United Kingdom; Czech Science Foundation; and NASA (Cellular Molecular Biology). She is on the editorial board of Breast Cancer: Basic and Clinical Research .
Dr. Bouton was elected as a founding member of the UVA School of Medicine's Academy of Distinguished Educators and has served on the ADE's Steering Committee since 2004. She is a former member of the UVA Faculty Senate and served as a member of its Executive Committee and as chair of its Research and Scholarship Committee. She completed the Leadership in Academic Medicine program in 2008.
Her appointment is effective July 1, 2010.