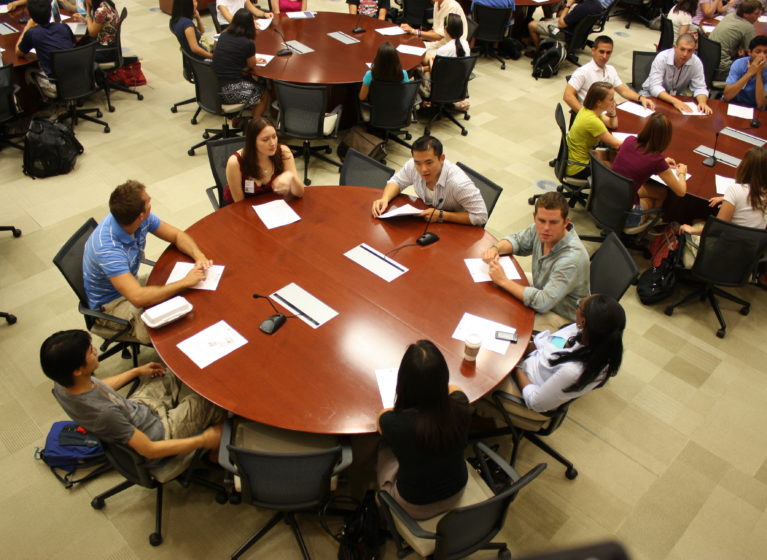 The University of Virginia School of Medicine on Monday inaugurated a new building, launched a groundbreaking new curriculum, and welcomed the 155 members of the Class of 2014.
"I welcome you to the most technologically advanced school of medicine in the nation," said Vice President and Dean Steven T. DeKosky, MD, from the new learning studio classroom. "You are the most academically successful class to ever enter the school of medicine. I challenge you to continue your success as you move forward these next four years."
The students gathered in the Claude Moore Medical Education building, featuring the latest innovations to accommodate a variety of learning styles, including groundbreaking educational technology. The building integrates small-group learning and individual instruction with state-of-the-art educational spaces including the "Learning Studio," a technology-enabled, active-learning classroom that provides an interactive, hands-on learning environment in which students work collaboratively in small groups.
The "Next Generation" curriculum eschews the traditional split of basic and clinical sciences and, instead, employs a system-based learning experience that has deeper integration of basic sciences and clinical medicine, is oriented to clinical function, and uses the best evidenced-based models for medical education to foster student learning.
"We want the interaction with faculty to be much more meaningful than a recitation. We believe it is much more important for students to interact with the faculty about what they have learned," Randolph J. Canterbury, MD, Senior Associate Dean for Education explained to the students.
The prospect of a new building and a new curriculum was a draw for many students.
"I was definitely attracted to the active learning idea. The fact that it starts so early in our training shows how dedicated the school is to it," said Erika Igbinoghene.
First-year David Jiang said he was excited about the Next Generation curriculum, but at the same time, a little nervous since there was nothing to compare it to.
"It definitely was a factor in my decision," Jiang said. "Also, knowing there was a new building with so many new resources to take advantage of, was a big reason I chose to come to UVA."
The class of 2014 is the largest in the history of the University of Virginia School of Medicine. The students will undergo a week-long orientation that culminates with the presentation of their white coats on Friday evening.