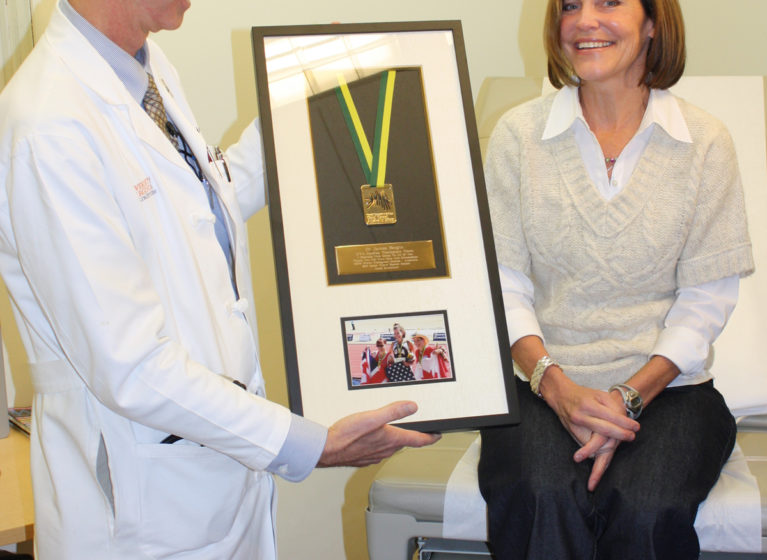 University of Virginia Health System patient Anne Kirchmier has added new meaning to the expression, "heart of gold."
During a recent visit to UVA Medical Center, Kirchmier surprised her cardiologist, James Bergin, M.D., with a gift – one of the three gold medals she won during track events at this summer's World Transplant Games in Gold Coast, Australia. "I am alive and here to present this medal because of the care I received from the medical staff and the generosity of the donor family who gave me my new heart," said Kirchmier, who received her transplant at UVA in 2007.
Beautifully mounted and framed, the medal was enclosed with a photograph of Kirchmier at the games and a brass plate bearing the inscription: "Dr. James Bergin, UVA Cardiac Transplant Team – I dedicate this medal to all of you. Thank you for your care and compassion. 2009 World Transplant Games, 800 Meter World Record Holder, Anne Kirchmier"
Bergin, who was clearly delighted by Kirchmier's gift, said members of the staff were tracking her progress online during the World Transplant Games. "We were all rooting for you," he noted.
Kirchmier is a resident of Spotsylvania Country, Virginia and a former marathon runner. Her heart transplant marked the culmination of an 11-year progressive illness caused by arrhythmogenic right ventricular dysplasia, or ARVD.
Her new heart, which she lovingly refers to as Amy, has enabled Kirchmier to return to competitive running. In 2008, she won gold medals and set new national records in the 50+ age group in the 800 meter and 1500 meter races at the U.S. Transplant Games in Pittsburgh, PA. At this summer's World Transplant Games, she took home the gold for her age group by breaking world records in the 3 kilometer and 800 meter races and by placing first in the 1500 meter race.
Kirchmier says she would also like to present one of her medals to her donor's family, which has so far remained anonymous. "I understand that the family made a difficult decision at a difficult time, and it may be too painful for them to meet me," she notes. "Sharing this gold medal is my way of saying thank you to them for the miracle they made possible in my life. In fact, I thank them every day and do my best to take care of this wonderful new heart."
Kirchmier now volunteers with LifeNet Health, an organ procurement organization and is interested in mentoring other transplant patients. "My journey now is about telling others to never give up hope and never lose sight of getting well," she says.