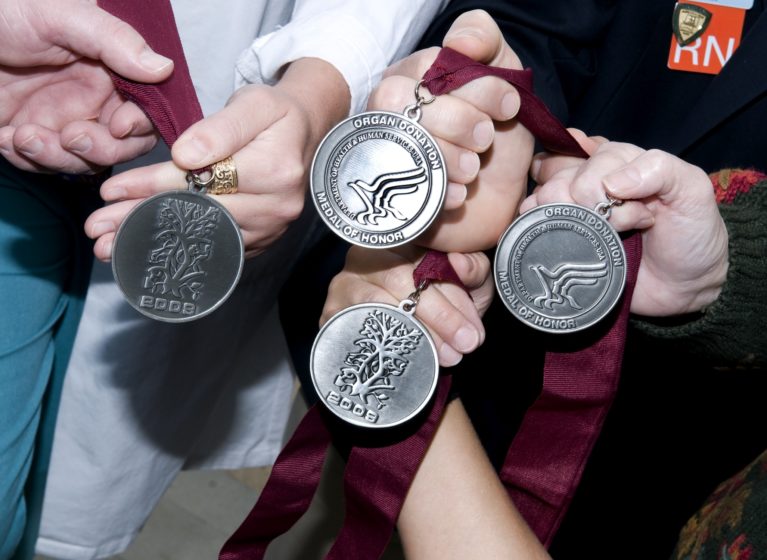 Marian Lawson, RN, doesn't know how many families she and her colleagues at the University of Virginia Health System have consoled as their loved ones neared death. "We're with them during a very vulnerable time and do all that is medically and emotionally possible. We do our best to offer care and respect and to treat them like our own family members," she says.
Lawson, a nurse manager in the Coronary Care Unit, is also one of two UVA liaisons with LifeNet Health, the federally designated agency that coordinates organ recoveries throughout Virginia. "When there appears to be no chance of survival for their loved one, we refer families to organ donation consultants from LifeNet," she says.
Besides helping families understand the need for organ donation, LifeNet Health representatives explain how they can offer a gift of life to patients waiting for transplants. "For many families, organ donation becomes a silver lining around the dark cloud of grief," Lawson adds.
Between September 2008 and August 2009, UVA referred 198 patients to LifeNet Health for evaluation. Twenty-four patients met donation criteria and 21 of them – 88 percent – ultimately became organ donors. medal The 2009 Organ Donation Medals of Honor received last month by the University of Virginia Health System.
Last month, UVA Health System received a key recognition for its referrals – a 2009 Medal of Honor. The award is presented annually by the Health Resources and Services Administration (HRSA) to hospitals that achieve organ donation rate of 75 percent or more from eligible patients during a 12-month period.
"We feel honored to have received this award for the fourth consecutive year, and consider it a tribute to our donor families" says Paige Williams, a quality coordinator in UVA's Emergency Department, who also serves as a liaison to LifeNet Health. "Organ donor families are unsung heroes. They turn their personal tragedy into a gift of life for transplant recipients."
Increasing organ donations is an important priority at UVA, which has been deeply involved in national benchmarking initiatives and staff education programs to increase patient referrals. "We've worked hard to build awareness among our doctors, residents, nurses and staff. Everyone here understands the importance of the referral process," Williams says. "We're finding that our staff members really appreciate receiving feedback when their referrals make a difference – when an organ donation occurs." Organ Donation Committee The 2009 HRSA Medals of Honor recently received by UVA are displayed by members of the Medical Center's Organ Donation Committee: (from left to right) Ken Allmon, RN, nurse manager of the Nerancy Neuro Intensive Care Unit; Marian Lawson, RN, nurse manager of the Coronary Care Unit; Dick Haines, director of Chaplaincy Services; and Paige Williams, quality coordinator in the Emergency Department.
According to Roger Young, a senior donation consultant with LifeNet Health, "Our research shows that a family's organ donation decision is most influenced by their perception of the medical care received by their loved one and by the hospital staff's attitude of helpfulness. The team at UVA does a wonderful job on both counts."
At UVA, most referrals to LifeNet Health are made by staff in the Emergency Department and in eight intensive care units – the Coronary Care Unit (CCU), the Medical Intensive Care Unit (MICU), the Medical-Surgical Intensive Care Unit (MSICU), the Neonatal Intensive Care Unit (NICU), the Nerancy Neuro Intensive Care (NNICU), the Pediatric Intensive Care Unit (PICU), the Surgical-Trauma Intensive Care Unit (STICU) and the Thoracic Cardiovascular Post-Op Unit.