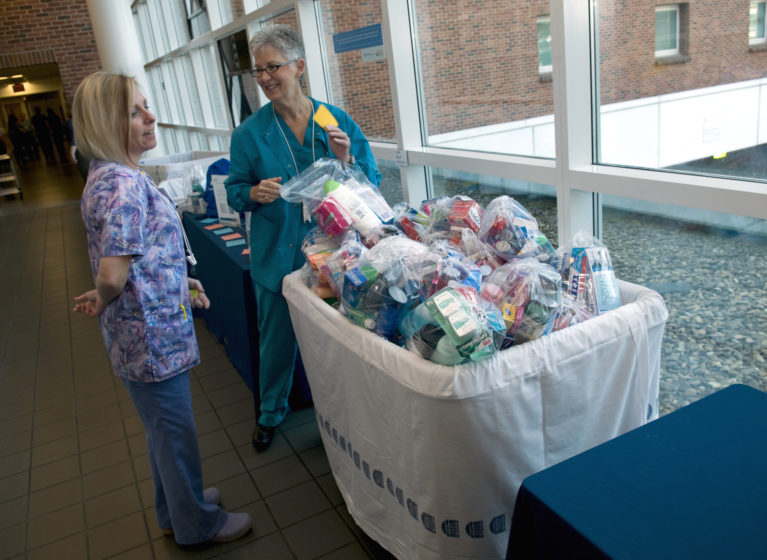 When the UVA Medical Center received Magnet Designation in 2006 from the American Nurses Credentialing Center, nurses decided to celebrate the achievement's anniversary by organizing a community service project. This year's project resulted from a conversation between RN Marilyn Pace and Charlottesville City Councilor Holly Edwards, RN, a parish nurse at the Westhaven Clinic, supported by the Jefferson Area Board for Aging (JABA), about the needs in the local community.
"We both started thinking that our local teens need to feel supported, and they need to hear a positive message during these tough economic times," explained Pace, who is a member of UVA's Magnet Recognition Steering Committee, which planned the project with the UVA Magnet Champion nurses.
The committee decided to ask Health System staff to create and donate teen care kits that would include full-size hygiene products such as shower gel, toothpaste, shampoo and conditioner and sunscreen. The kits cost about $20 each to assemble. Staff were also asked to include a handwritten note with each kit.
"We wanted to include an encouraging note because teens today face so many challenges – family stress, poor self-esteem, bullying and peer pressure, to name a few," Pace said.
Most people brought their kits to the hospital's magnet anniversary celebration September 28, but since then, they've continued to trickle in. The committee has collected approximately 600 kits so far, amounting to roughly $12,000 and 2,700 pounds worth of supplies.
"We had nurses from all over the Health System, including its ambulatory clinics outside of Charlottesville, who told their co-workers about the project and got them to pledge kits," Pace said. "People were really enthusiastic, and many employees donated more than one kit each. We were thrilled to see how generous everyone was during these tough economic times."