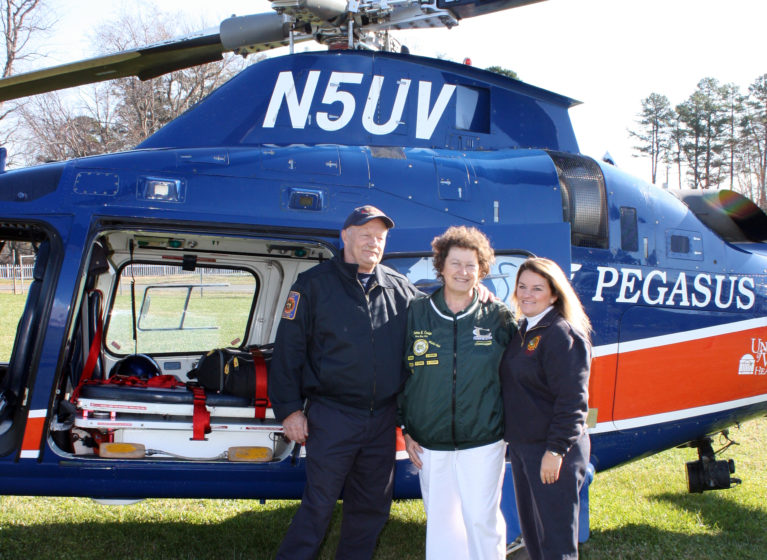 On Tuesday, December 8, nearly 24 hours after suffering a severe heart attack, Dianna Carter was alert, cheery and relaxing in her bedside chair in the Coronary Care Unit at the University of Virginia Medical Center.
The day before, Carter had begun experiencing symptoms she thought were indigestion. "I'd eaten my lunch pretty fast," said Carter, a beloved bus driver and cafeteria worker at Louisa County High School. "I started feeling pain in the center of my chest. Then, I felt a sharp pain between my shoulder blades and started sweating profusely," she recalls.
Still thinking she was having a bout of indigestion, Carter told her cafeteria supervisor, Patty Kemp, she was feeling ill and needed to lie down. Kemp took one look at Carter and called in the school nurse Dolores Toombs, RN, known to all as Nurse Didi. "All the color had drained from her face, so I knew we had to act fast," recalls Toombs.
At first, Carter resisted Toombs' suggestion that an ambulance be called. "I didn't think I was having a heart attack and didn't want to cause a fuss," Carter says. "But Nurse Didi convinced me to let the ambulance come."
After calling 911, Toombs took Carter's vital signs and administered oxygen. Within two minutes, medics from the Louisa County Rescue Squad were on the scene and determined that Carter was having a serious and often-deadly type of heart attack, an ST elevation myocardial infarction (or STEMI), which is caused by a blocked coronary artery.
Squad medic Buddy Hopkins quickly contacted UVA Medical Center, setting off a STEMI Alert, a clockwork-precise process that synchronized activities in the field with those at the hospital. UVA immediately dispatched its Pegasus helicopter. Fifteen minutes later, Pegasus landed in the parking lot of UVA's dialysis center in Zion Crossroads, with on-ground guidance provided by James Poore, a volunteer with the Trevilians Fire Department. (As it turns out, Poore had ridden on Carter's school bus when he was in kindergarten.) Hopkins, Carter and Staymates.
"The helicopter arrived within a minute after we pulled into the parking lot," says Louisa medic Kelly Staymates. Carter was quickly airborne and en route to Charlottesville, under the care of Pegasus paramedic Mike Wasilko and flight nurse Mona Snow, RN.
From the helipad at UVA, Carter was wheeled into the Emergency Department where a team of nurses and doctors were waiting for her. Moments later, she was transferred to the Cardiac Catheterization Laboratory and had an angioplasty balloon inserted into her artery, restoring blood flow to her heart.
"Around 2:04 p.m., I received a pager call indicating that a patient was en route. We were waiting for Mrs. Carter in the Emergency Department when she arrived. By 2:24 p.m., we had identified where her coronary artery had become totally blocked and restored her blood flow," recalls Lawrence Gimple, MD, an interventional cardiologist who performed the angioplasty and stenting procedure. "Our outstanding ED and Catheterization Lab teams enabled us to complete treatment that quickly."
In fact, Mrs. Carter's artery was reopened more than four times faster than the national door-to-balloon goal, which aims to have angioplasty initiated within 90 minutes after a patient enters the hospital.
"Ms. Carter is alive today because all of the pieces came together: the quick action of her colleagues at Louisa County High School, the skill and responsiveness of rescue squad medics and the volunteer fire department, and the effectiveness of everyone involved in the STEMI Alert process, which we've spent may hours developing and improving here at UVA," Gimple adds.
Carter, who has lived in Louisa County since childhood, became a school bus driver in 1995 so she could transport her granddaughter, Ashley, to and from kindergarten. As Ashley (who now attends Sweet Briar College), advanced through the grades, Carter switched routes and schools to stay with her. She also began working part time in the cafeteria. "I was going to retire when Ashley graduated from high school, but I just love the children and really enjoy my work," Carter says.
Both students and parents love Carter, too. Each year, she keeps a scrapbook of pictures and newspaper clippings about the students who ride her bus. When her passengers misbehave, she reaches out to parents before taking disciplinary action. "I want to find out what might be going on in the child's life and figure out a way to change their behavior," she says. "You'd be surprised at how may parents of high school students give me car keys and PlayStation controllers after telling their children that they can get them back only when I say so."
Carter and her husband, Ernest, have a daughter, Debbie, who lives in Louisa and a son, Ernest, Jr., who lives in Colonial Heights, Virginia. She has two other grandchildren in addition to Ashley.
Carter plans to return to work in early January. "I am so thankful to everyone at school, the rescue squad, Pegasus and UVA who helped me," she says.
"She's our Christmas miracle," exclaims medic Kelly Staymates. "We wish all of our emergency calls could have such a happy ending."