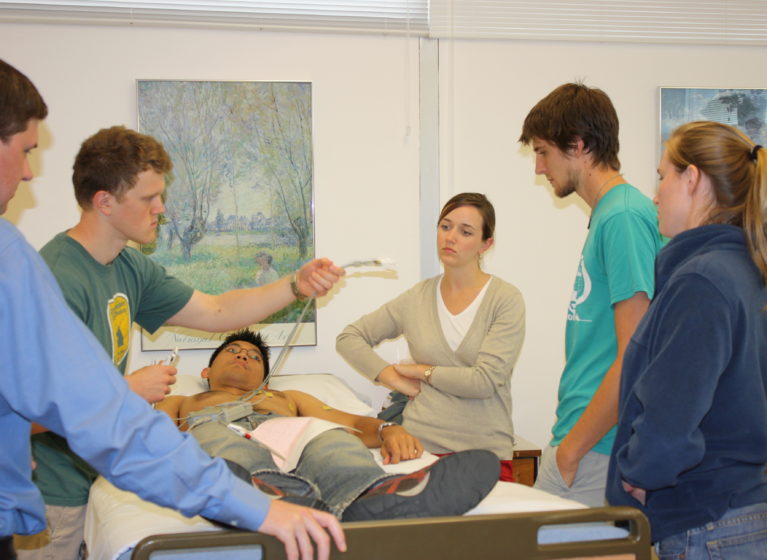 For University of Virginia nursing and medical students, volunteering at the Remote Area Medical (RAM) clinic in Wise County, Va. will be more than an opportunity to provide much-needed care to an underserved population. It's also an opportunity to hone their clinical skills in an area that suffers greater nursing and physician shortages compared with most of the nation.
Thirty-three UVA students, 18 from the School of Medicine and 15 from the School of Nursing, will be among the 250 UVA volunteers at this year's RAM clinic, held July 24-26. For many it will be their first change to put their skills to use outside of a hospital setting. In preparation, students attended a three-day intensive training session to practice ultrasound techniques, review clinical skills and receive an overview of social work, patient education and health literacy issues. Medical students also called patients to remind them of pre-scheduled appointments, although most care at RAM is provided on a first-come-first-serve basis.
The multi-faceted training is part of the reason Scott Syverud, M.D., professor of Emergency Medicine and UVA's Medical Director for RAM, considers RAM a "huge time commitment" for students. "They provide a lot of the grunt work in setting up the clinic, by unloading the trucks and putting things together. They're real troopers in terms of helping out. They really buy into our mission down there, and that's why they work so hard."
Another reason Syverud encourages students to attend RAM is because the experience could influence them to continue volunteering or eventually practice in southwest Virginia and other underserved areas. According to a 2007 report from the Southwest Virginia Graduate Medical Education Consortium (GMEC), the average number of active primary care physicians per 100,000 people in the United States is 69. In Virginia, it's 66. In GMEC's service area, which is made up of Virginia's farthest-reaching southwest counties, the number is just 62. The GMEC reports similar shortages for physician assistants and nurse practitioners. These shortages may be part of the reason why death rates from many common causes are higher in the GMEC's service area than in Virginia overall; for example, people in that area are 23 percent more likely to die from heart disease and 30 percent more likely to die from diabetes.
This is why events like RAM, where last year UVA volunteers provided medical care for 1,133 patients, are essential to the area. Fourth-year medical student Jason Woods volunteered at RAM two years ago and is looking forward to returning. "In the general medicine clinic, we were expected to help triage patients, interview them, record what they told us, prepare a list of what medications they were already on and the screening tests that they needed. Then we went and talked to the doctor about what we thought was going on," he recalled. "To be able to do that as someone who had just finished my first year of medical school was a very rare opportunity."
Both Woods and Dan Bayliss, a UVA nursing student in his second year of the graduate-level Certified Nurse Leader program, say they would like to continue volunteering. Bayliss is interested in community health and is considering working in southwest Virginia.
Attending RAM also gives medical and nursing students a chance to experience the collaboration that will be so essential when they begin working in a clinical environment. "Many times the education of medical students happens in isolation from nursing students. However, when they finish their degrees, the two professions are working together on a daily basis," said Audrey Snyder, Ph.D., R.N., an assistant professor of nursing who serves as UVA's clinical nurse supervisor for RAM. "Volunteering at the Wise clinic gives students the opportunity to understand the unique education opportunities in the opposite discipline and improve their communication skills in working with a multidisciplinary team."
If the students attending RAM choose to start their careers at UVA, they will still have numerous opportunities to volunteer in southwest Virginia. In addition to the July RAM clinic, UVA volunteers participate in a smaller-scale RAM clinic held every fall in Grundy, Va. The UVA Health System holds free quarterly endocrinology clinics and mobile digital mammography screenings. UVA health care providers are also able to stay in touch with far-away patients year-round through more than 60 telemedicine sites in Virginia, 28 of which are in the far southwest part of the state.
The RAM clinic in Wise, however, continues to be the largest source of free health care to Appalachian residents. During its 30 hours of operation last year, the clinic provided vision, dental and medical services to more than 2,600 people. Organizers are expecting a 20 percent increase in patients seeking care this year.