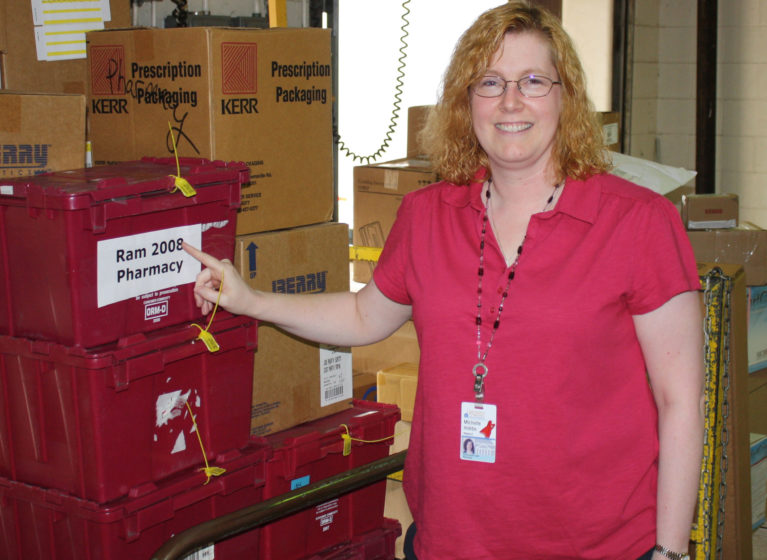 Nearly 250 volunteers from the University of Virginia Health System are embarking on a special mission today. Carpooling in their own vehicles, they are heading south on a six-hour drive that will take them to the largest event of its kind in the nation. The Remote Area Medical (RAM) clinic, being held July 24-26 at the Virginia-Kentucky Fairgrounds in Wise, Va., will provide free medical, dental and vision care to thousands of Americans in need.
During the clinic's 30-hours of operation, UVA volunteers will race the clock to provide a wide variety of primary and specialty medical services to a record number of patients. Clinic organizers expect to treat more than 3,000 patients – a 20 percent increase from 2008 – and UVA anticipates nearly half will require medical care.
When they arrive in Wise this afternoon, UVA volunteers will immediately begin setting up a multi-disciplinary medical clinic housed in numerous tents and buildings at the fairgrounds. In addition to treatment areas, they will assemble a complete medical lab and fully stocked pharmacy.
Careful preparation ensures clockwork precision in Wise
Leading the pharmacy team is Michelle R. Hobbs, Pharm. D., an Investigational Drug Services Coordinator at UVA. In a mere eight hours, she and her team will get the equivalent of a small community pharmacy up and running.
"We have a strict formulary and no controlled substances," Hobbs explains. "In terms of inventory and the number of prescriptions we'll fill this weekend, our operation is very similar to a small retail pharmacy."
The UVA pharmacy team consists of five pharmacists and two pharmacy technicians. They will be supported by pharmacy faculty and students from Virginia Commonwealth University and the Appalachian School of Pharmacy, who provide patient counseling.
Hobbs says that getting the pharmacy to run like clockwork in Wise requires careful preparation. Months before the Wise clinic, she volunteers her time to ensure that the pharmacy carries the right drugs in sufficient quantities. She removes expired drugs and adds new drugs requested by physicians and dentists who will be volunteering at RAM.
To determine quantities, she works with clinic organizers to estimate the number and types of patients who will seek services at the upcoming clinic.
An unexpected challenge in preparing for this year's clinic was the lack of drug donations. "Our first pharmacy at RAM consisted of 100 percent donated meds. Over the years, this amount dropped to about 20 percent. This year it went to zero." Hobbs says.  On site at RAM, UVA will merge its pharmacy inventory with that of The Health Wagon, the group that coordinates the entire RAM clinic.
"The formulary is always our biggest challenge – how to predict what will be needed and just stretch the funding we have from the UVa Health System to make the greatest impact on the most patients, Hobbs says. "From a pharmacy perspective, we the most we can give out is a 30-day supply. If we had one wish, it would be to help in a more long-term capacity."
Several years ago, Hobbs helped establish a voucher program which enables RAM's dental patients to obtain pain medications, categorized as controlled substances, at local pharmacies at no charge. "We've found that adequate pain control decreases the load on the local emergency rooms," she says.
Asked why she continues to volunteer her time in Wise, Hobbs explains, "You only have to attend one RAM clinic to become hooked. It only takes one patient's story of adversity and perseverance and the amazing feeling that accompanies helping them.  We may not 'fix' everything for every patient but we make every patient a little better by giving a diagnosis, following-up on a condition they knew about but couldn't afford to have treated or providing a free month of medication. Sometimes patients feel better just knowing there are people who care enough to come and serve. I keep going back for the patients – the people who wait in lines before the sun comes up, spend 12 hours being seen in various clinic areas and still smile and thank you as they leave."