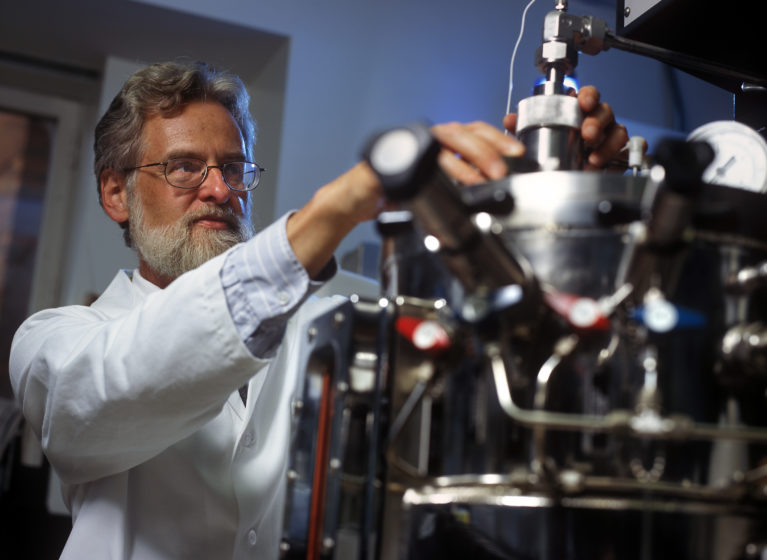 A medical home test kit based on a protein discovered at the University of Virginia Health System – SpermCheck Vasectomy – has begun shipping to zip codes across the U.S., marking the launch of a new product line that could revolutionize the way men around the world monitor their reproductive status.
"The SpermCheck family of products is intended for use by men on both sides of the fertility equation – those who don't want to father children and those who do," notes John C. Herr, PhD, inventor of SpermCheck technology who is professor of cell biology and director of UVA's Center for Research in Contraceptive and Reproductive Health.
Based on antibodies that bind to SP-10, a protein discovered in Herr's laboratory, SpermCheck Vasectomy is the only FDA approved immunodiagnostic test for monitoring sperm after vasectomy. The device looks and functions much like a home pregnancy test. By measuring SP-10, which is present at constant levels in each sperm head, it enables men to quickly and accurately monitor their post-vasectomy sterility.
Monitoring is important because sperm can remain in the male reproductive tract for weeks or months after a vasectomy. To avoid unexpected pregnancies, vasectomized men must practice birth control until their sperm count falls below fertility levels.
Currently, 1.5 million men worldwide have vasectomies each year, including 500,000 Americans. Many skip one or both of the recommended follow-up tests that determine if the operation was successful. As Herr explains, "Today, men must go to their doctor's office or a medical lab for post-vasectomy testing. According to a recent report in The British Journal of Urology, 35 percent of them do not return for the first sperm level test and over 70 percent do not return for the second follow-up." Herr believes that the at-home privacy, convenience and affordability of SpermCheck Vasectomy will boost post-operative monitoring and make it easy for couples to accurately determine when contraception methods are no longer needed.
In the U.S., SpermCheck Vasectomy is now available online at www.contravac.com and from physicians who perform vasectomies. It is expected to be available in drug stores by the end of 2009. In coming months, the kit will be joined by a sibling product, SpermCheck Fertility, which has concluded clinical trials and is awaiting FDA approval.
Nearly 15 percent of couples have difficulty conceiving, and 40 percent of infertility is due to the male. This test provides a quick and easy way for couples to determine if low sperm production is the cause," notes Herr, who expects SpermCheck Fertility to launch later this year.
A third product, SpermCheck Contraception, is now being used in a multi-center, NIH-funded study that is evaluating the effectiveness of a new contraceptive drug for men. This kit will be marketed as a companion product whenever the first FDA-approved male contraceptive drug or device becomes available.
A Collective Success Story
For Herr, the debut of the SpermCheck product family is far more than a personal achievement: it is both a collective success story and a shining example of how translational research at UVA is transforming basic scientific discoveries into innovative products and treatments. "Translational research is cooperative in nature and involves the interplay of many groups in many disciplines," Herr says. "SpermCheck is a great example of how long-term, interconnected collaborations can move an idea out from the research bench and into the hands of physicians and consumers."
The origins of SpermCheck trace back to research initiated at UVA in the early 1980s. Looking for a sperm-specific biomarker, Herr and his colleagues – basic scientists, clinical researchers, pre- and post-doctoral students – first discovered the gene, ACRV1. From there, they identified a new protein, SP-10, that was encoded by ACRV-1 and proved useful in sperm detection and quantification. Between 1984 and 2008, group members published 22 articles about their research in major medical and scientific journals.
As work progressed in the laboratory, Herr took the first steps in the translational research process. He met with the UVA Patent Foundation, which helped him apply for and obtain four U.S. patents related to SP-10 and SpermCheck technology. The Patent Foundation later licensed the exclusive rights to SpermCheck-related antigens, antibody reagents and methods of use to ContraVac, a Charlottesville-based biotechnology firm founded by Herr in 1998.
ContraVac quickly moved the collaborative process beyond UVA's borders. It began working with Princeton BioMeditech Corporation (PBM) to develop prototypes for SpermCheck Vasectomy and SpermCheck Fertility. "We chose PBM because of their expertise in manufacturing test kits similar to SpermCheck. PBM's scientists were invaluable in addressing our key product development challenges and in helping us navigate the complexities of the FDA approval process," notes Herr.
During 2006 and 2007, ContraVac began clinical and consumer trials at three sites (UVA, Devine-Tidewater Urology in Virginia Beach, Va. and the University of Laval in Quebec, Canada). The process involved two new groups of collaborators – study volunteers and the Institutional Review Boards at each trial site.
On the financial front, Herr's research has been supported by the National Institutes of Health, the World Health Organization, the U.S. Agency for International Development, the Contraceptive Research And Development Program, Schering AG, UVA and other groups. Funding for ContraVac has come from angel and private investors, and the company's progress is now being accelerated by a $194,700 grant from Virginia's Commonwealth Technology Research Fund.
"As a young scientist, I never imagined being involved in patenting, licensing, finance, marketing, manufacturing and quality control. Now, I see that collaborating with communities beyond the laboratory and classroom is a way to effect change," observes Herr, who has become an advocate for applied research. "I believe that scientists who receive federal support owe the public a return on their investment whenever feasible."