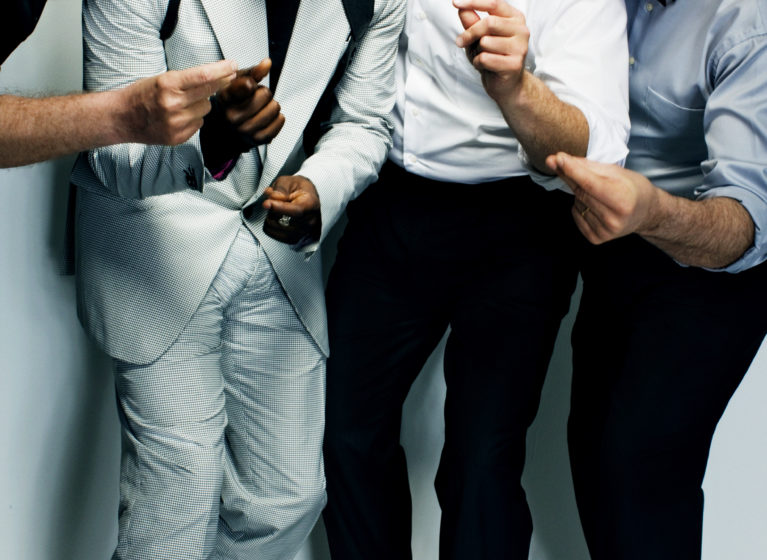 Nationally recognized University of Virginia researcher and physician, Steven T. DeKosky, MD, adds another distinction to his scientific career, appearing as a "Rock Star of Science" in the June issue of GQ Magazine with such rock celebrities as Sheryl Crow, Josh Groban, Black-Eyed Peas member and X-Men Origins: Wolverine co-star Will-i-am, and Aerosmith's Joe Perry. Dr. DeKosky and 10 other leading medical researchers nationwide turned in their lab coats for a designer menswear photo shoot as "Rock Stars of Science" (ROCK S.O.S.), a new public service campaign sponsored by GEOFFREY BEENE GIVES BACK ® and GQ Magazine .  The campaign spotlights the need for greater funding for medical research and strives to make science a more attractive career choice for tomorrow's stars.
One of the goals of ROCK S.O.S. is to bridge a serious recognition gap that, according to a recent Harris Interactive survey for Chicago's Museum of Science and Industry, makes Britney Spears more influential than Stephen Hawking among most Americans. In fact, an earlier survey commissioned by the national organization Research!America found that nearly three-fourths of those polled could not name a single living scientist.
"We have always known that science isn't quite as sexy as rock 'n' roll, but when we are so far outside the public conscience, then funding for medical research is in danger and it's time to spruce up our image," said Dr. DeKosky.
Dr. DeKosky is an international expert in the field of Alzheimer's Disease research. His basic neuroscience laboratory studied the early pathological and chemical alterations in the brain associated with the development of Alzheimer's, as well as the neurochemistry of brain trauma and how it relates to Alzheimer's.  His laboratory was the first to show the relationship of nerve cell contacts (synapses) and severity of the cognitive impairment in Alzheimer's disease. He recently completed a National Institutes of Health-funded clinical trial of 3,000 subjects, studying the efficacy of Ginkgo biloba in the prevention of Alzheimer's Disease.
Dr. DeKosky has served in leadership roles for several NIH research-related activities as well as on the board of directors for both the Alzheimer's Association USA and Alzheimer's Disease International. He is a member of the American Board of Psychiatry and Neurology and chairs their Strategic Planning Committee. In addition, he serves on the editorial boards of six of the leading neurology and Alzheimer's clinical publications and is a reviewer for an additional 20 clinical journals.
"The reality is that the most important medical breakthroughs are impossible without broad support, and support needs mainstream recognition," said Dr. DeKosky.  "That's why Rock S.O.S. is so important.  Plus, everybody needs to rock out, now and then."
In addition to showcasing Dr. DeKosky's work, ROCK S.O.S. also will focus on other scientists and their breakthrough research with diseases like cancer, HIV-AIDS, heart disease, Alzheimer's, and advances in genetics and personalized medicine.  The campaign also will be supported by a website http://www.rockstarsofscience.org/ , to be launched on June 1, 2009.  The site will profile the scientists, their teams and research institutions. Readers also will have the opportunity to sign a declaration calling for more funding for science research, nominate their own Rock Stars of Science, and qualify for limited edition campaign giveaways.
ROCK S.O.S. is made possible by the designer menswear brand, GEOFFREY BEENE with a unique business model of corporate giving. One hundred percent of net profits from GEOFFREY BEENE, LLC fund philanthropic causes. Today, the GEOFFREY BEENE Foundation and the GEOFFREY BEENE Brand have supported over $145 million in charitable commitments to a variety of medical causes including the lead recipient, the GEOFFREY BEENE Cancer Research Center at Memorial Sloan-Kettering Cancer Center .  Additional charitable support goes to its Alzheimer's Initiative, the GoRed For Women campaign, signature CFDA and YMA Fashion Scholarships, Veterans' support, protection of animals, and the welfare of women and children, in partnership with Macy's through the Family Violence Prevention Fund. For more information, contact: http://www.geoffreybeene.com/
GQ Magazine is the leading men's general-interest magazine with a monthly readership of 6.1 million readers. The magazine is published by Condé Nast Publications. For more information, contact: http://www.gqconnects.com/