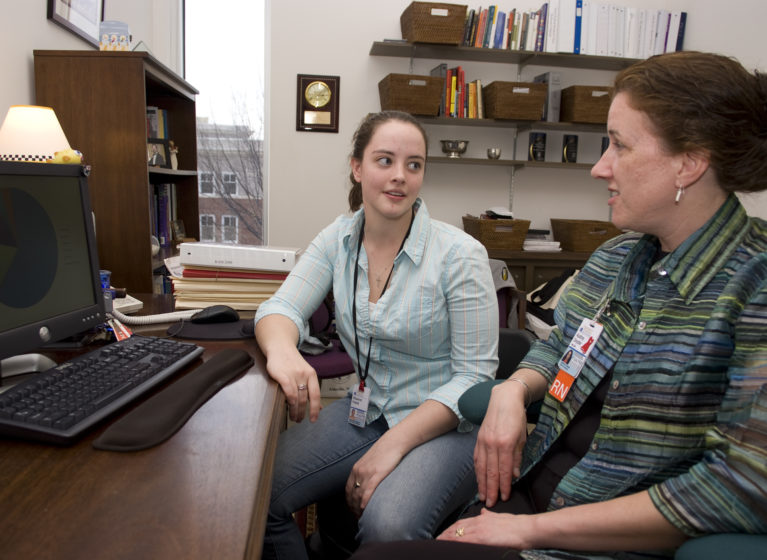 They are forty-something, overweight or obese, and suffer from arthritis, diabetes and/or hypertension. The overwhelming majority are either uninsured or covered by government programs such as Medicare or Medicaid. Most live in Virginia, and slightly more than half have access to a primary care physician. According to a new report from the University of Virginia Health System, these characteristics typify patients treated at the annual, three-day Remote Area Medical clinic at the fairgrounds in Wise, VA.
The report is the first to provide detailed patient information from the Wise event, which is now the nation's largest free mobile health clinic. Started 10 summers ago, the 30-hour clinic provides dental, vision and medical care to thousands of people who are sick, suffering and have limited or no access to ongoing healthcare. The event provides many with their only opportunity to see a doctor all year. It also plays a vital role for insured, low wage-earners by giving them access to services and screening exams they would otherwise forgo due to costly co-payments or lack of coverage by their plan.
UVA Biomedical Engineering student Rhiannon Franck meets with her capstone project advisor Audrey Snyder, PhD, associate professor of nursing. Deeply committed to the RAM clinics in Wise and Grundy, Dr. Synder serves as the UVA Health System's Community Outreach nurse coordinator.
Written by Gwyneth Rhiannon Franck as part of her capstone project in Biomedical Engineering and funded by a UVA Community Based Undergraduate Research Grant, the report provides statistical profiles of patients who received medical care during the 2008 Wise clinic. The information, which will be supplemented by 2006 and 2007 patient data, will help clinic organizers better predict patient volumes and treatment needs each year. Ultimately, the data could enable planners to offer a mix of services and preventive screenings that will have an optimal impact on public health in the region.
Based on data from 1,038 medical records, key findings of the UVA report include:
Age: Patient age range 2-88; median age 46; average age 44.5. Area of residence : Virginia (84.3%); Tennessee (10.6%); Kentucky (2.8%); other (2.4%). Insurance status : uninsured (62%); Medicare (16%); Medicaid (14%); private insurance (4%); employer or group insurance (3%). Access to healthcare : Men – 50% have a primary care provider; 50% do not. Women – 59% have a primary care provider; 41% do not. All patients – 56% have a primary care provider; 44% do not. Prevalent diseases: percentage of patients with a personal or family history of arthritis (71%), hypertension (69%), diabetes (66%). Blood pressure : normal range (47.5%); elevated levels (52.5%). Hypertensive patients taking medication who had elevated blood pressure levels (62%). Blood glucose levels : normal range (74.8%); range that suggests patient may have diabetes (12.6%); range associated with diabetes (12.6%). Body Mass Index : underweight (5%); normal (21%); overweight (24%); obese (50%).
The UVA Health System has been a key contributor to the Wise clinic since 2001 and now provides hundreds of volunteers, more than a ton of medical supplies and nearly $1 million in patient services each year. In 2007, the Health System began creating medical records for its Wise clinic patients to facilitate follow-up care. Those records provided data for Franck's report. To protect patient privacy, no personal information was accessed or included.
For UVA, participating in the RAM clinics in Wise and Grundy, VA is part of a multi-faceted, year-round initiative to create accessible, sustainable health care programs for uninsured and medically underserved residents of far southwest Virginia. Throughout the year, scores of UVA doctors, nurses, support staff and students from its medical and nursing schools travel to the region to conduct clinics in endocrinology, neurology, nephrology, pulmonology, cardiology and other specialties for children and adults. Many more clinicians offer consultations and training programs via the Health System's 27 telemedicine sites in the area.
In recent years, the Wise clinic has attracted extensive coverage by U.S. and international media. News stories have sparked significant public interest in the all-volunteer clinic and in the plight of the people it serves. Clinic management is provided by the Remote Area Medical Corps, a nonprofit, international relief organization based in Knoxville, Tenn. The event's primary organizer is the Health Wagon, a mobile health care provider in Clinchco, VA.
The Health Wagon served as the community-partner for Franck's research project. Its executive director Teresa Gardner, FNP calls UVA's partnership an invaluable resource. "UVA brings with it a host of esteemed resources that have helped our Remote Area Medical event be the success it has become," she says.
Service tallies for the 2008 Wise clinic include:
Medical : lab tests (1,572) prescriptions filled (1,331); prescription vouchers distributed (640); digital mammograms (156); pap smears (99); EKG (75); transvaginal ultrasound (53); glucometers (36); flexible sigmoidoscopy (36); emergency room visits (31); biopsies (30); abdominal ultrasound (28); neck ultrasounds (4). Vision : eye exams (1,088); glasses (1,002). Dental : extractions (1,342); fillings (1,833); x-rays (1,113); cleanings (249); sealants (59); root canals (45); dentures (21); crowns (15).
The 2009 RAM Clinic in Wise will be held from Friday, July 24 to Sunday, July 26 at the Virginia-Kentucky Fairgrounds. More information about the 2009 clinic is available from the Health Wagon (Tel: 276.835.9474) .