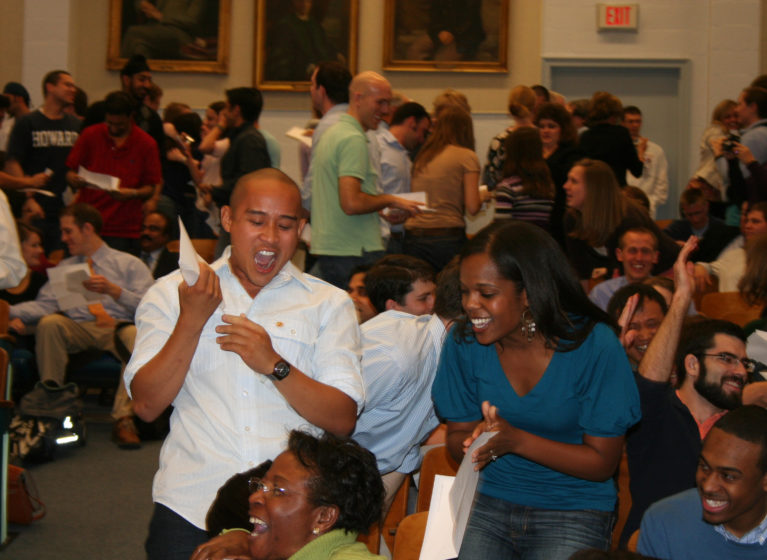 "You have set standards we will never exceed," said Richard Pearson, MD, Senior Associate Dean for Education, as he saluted the University of Virginia School of Medicine Class of 2009 on March 19, 2009.
Pearson told the 138 members of the class who were heading off to residencies that their 99 percent match for first-year and categorical programs was unprecedented for a UVA School of Medicine Class. Then, just a few moments after noon, the class members joined fellow medical students across the country and began to open their white envelopes, some with closed eyes and others with reckless abandon. The auditorium of the old medical school quickly filled with a roar of excitement from the class, their friends and family who joined in the match day celebration.
Susan Bradford let her husband, Turner, open her envelope as she held their one-month-old daughter Charlotte. Bradford will train at Strong Memorial Hospital in Rochester, NY, in obstetrics and gynecology.
"I'm happy with that," she said.
Jason Franasiak was ecstatic to get his first choice to attend the University of North Carolina at Chapel Hill, where he plans to complete an obstetrics residency.
"You just don't realize how much build up there is for today until you go through it," Franasiak said.
Of the 138 fourth-year students who matched, 11 will remain at the University of Virginia Health System to continue their training. Three members of the class deferred their match.
Match Day marks the yearly culmination of the residency interview process coordinated by the National Resident Matching Program (NRMP). The NMRP was established in 1952 to provide a uniform date of appointment to positions in graduate medical education (GME) in the United States.
The UVA School of Medicine class of 2009 will be studying 24 disciplines in 29 states. The highest number of students, 21, will be training in internal medicine, followed by pediatrics with 20 trainees and emergency medicine with 15. While the vast majority of students matched with residencies on the East Coast, Kelley Ann Otstott will travel the farthest. She is heading to the Tripler Army Medical Center in Honolulu, HI, for her residency in pediatrics.
"Based on the quality of the residency programs our students matched with, this was definitely our best year ever," said Pearson. "Program directors recognize the quality and abilities of the students we are graduating and want them in their residencies."