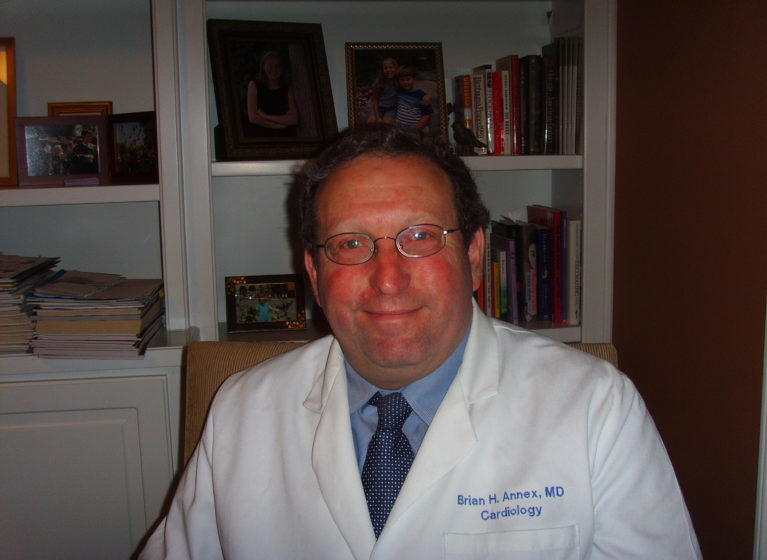 Robert M. Strieter, M.D., Chairman of the Department of Medicine at the University of Virginia School of Medicine, has announced the appointment of Brian H. Annex, M.D., as Chief of the Division of Cardiovascular Medicine.
Dr. Annex previously served as a Professor of Medicine in the Division of Cardiovascular Medicine at the Duke University School of Medicine. In addition, Dr. Annex served as Vice-Chief for the Division of Cardiovascular Medicine, Director of Vascular Medicine, and staff cardiologist at the Durham Veterans Administration Medical Center.
"We are proud to have recruited Brian Annex as our new Chief of the Division of Cardiovascular Medicine. Dr. Annex is a world renowned interventional cardiologist who will bring to the Division his outstanding expertise in translational research, clinical affairs, and education. We are anticipating great things with Dr. Annex leading the Division as he transforms an already outstanding program into an elite one," said Strieter.
Dr. Annex received his medical degree from the Yale University School of Medicine and completed his residency in internal medicine at Tuft's-New England Medical Center in Boston. He went on to complete a fellowship in cardiology at Duke University Medical Center and an interventional cardiology fellowship at William Beaumont Hospital in Royal Oak, MI. Upon completion of his fellowships, Dr. Annex joined the faculty at Duke University.
Dr. Annex's clinical and research interests include a multidisciplinary program in angiogenesis (the growth of new blood vessels) that is focused mainly on peripheral arterial disease (PAD) where blockages in arteries cause a series of clinical problems.  His group is involved in a series of bench to bedside studies which include a number of investigations on the causes of the blockages in arteries outside the heart, in case of the legs the response of the muscle and new arterial growth that follow the blockages, and the impact that diabetes mellitus plays in PAD.  Included among the array studies are gene or cell therapy clinical investigation to promote blood vessel growth in patients with PAD, as well as studies of exercise training, and pre-clinical models of PAD.
Dr. Annex serves as a member of the NIH Study Section on Clinical and Integrative Cardiovascular Sciences and has served as a regular reviewer for the journals Circulation , Circulation Research , the American Journal of Cardiology , the American Journal of Physiology , and the New England Journal of Medicine .
"The University of Virginia's Department of Cardiovascular Medicine is a leader in clinical care and the division is poised to expand its clinical and translational research in the coming decades," said Annex. "The division has a strong core faculty who has benefited from solid leadership and an incredible group of junior faculty who are poised to be national leaders. Our patients will be the major beneficiaries of the refinements in treatments, clinical protocols, and cutting-edge research at UVA."
Annex said in addition to the outstanding faculty, he was attracted to UVA because of its excellent clinical training program, its strength in vascular biology and the way the division works together and as a part of the Department of Medicine.
Annex had high praise for the outgoing chief, George Beller, M.D., for his leadership and vision.
"George Beller is one of the best known figures in the world of cardiology. He has provided leadership and vision for quite a long time.  He has recruited and developed a faculty whose clinical outcomes and teaching can stand up well against any academic medical center in the country," Annex added.