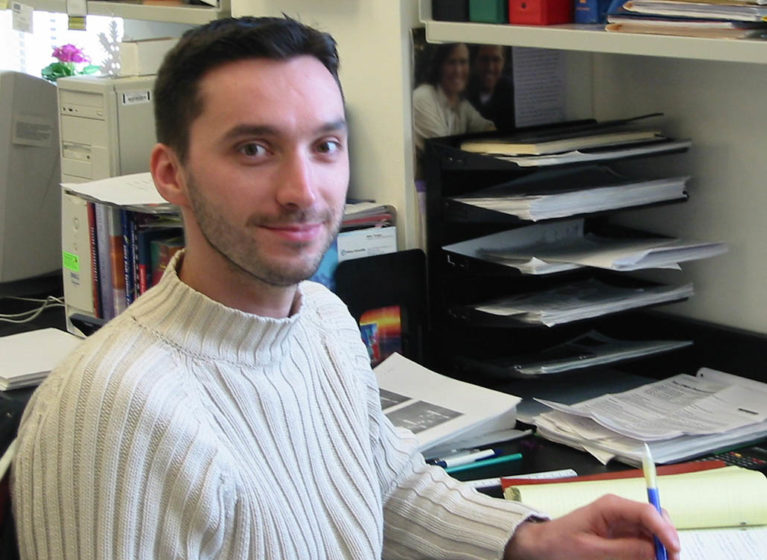 Pierrick G. Fournier, Ph.D., a research instructor at the University of Virginia Health System, is the first recipient of the Bone and Cancer Foundation's Noa Schwartz Siris Research Award for his study, "T Cells in Bone Metastases and Role of the Bone Microenvironment."
"Receiving the first Noa Schwartz Siris Research Award is a great honor," says Dr. Fournier.  "It's extremely difficult for young faculty members to become independent investigators, but this award helps me toward that goal."  The $20,000 grant will allow him to continue his research on the interactions between cancer cells in bone metastases and the immune system — an under-developed area of research in the bone metastases field.
"Studying the role of the immune system in the development of bone metastases is a new and exciting field of research with great potential for patients suffering from this disease," says Dr. Fournier. "The University of Virginia offers an excellent environment for this project, guided by the expertise of Dr. Theresa Guise and Dr. Victor Engelhard, specialists in the field of bone metastases and immunology, respectively."
Bone is a frequent site of metastases when cancer cells migrate from primary tumors in breast cancer, prostate cancer and melanoma; however, little is known about the mechanisms of bone metastases.  Dr. Fournier's research goal is to develop new and better treatments for patients suffering bone metastases by first understanding the role of lymphocytes T, or T cells, and TGF-ß (Transforming Growth Factor).
Dr. Fournier's team theorizes that T cells increase bone resorption and thereby encourage the development of bone metastases.  Furthermore, he suggests that TGF-ß in bone, acting on these T cells, is a contributing factor in the ability of cancer cells to evade the immune system.
"Our research focuses first on characterizing the role of T cells in metastases to the bone and second on testing anti TGF-ß therapies on bone metastases in preclinical models," he says.  "We hope by understanding these mechanisms we one day can design more effective therapies for end-stage cancer patients."
The Bone and Cancer Foundation of New York, NY, is a program of the Paget Foundation for Paget's Disease of Bone and Related Disorders.  Its first research award is named in memory of Noa Schwartz Siris, a physician who died at 29 of osteosarcoma.  She was the daughter-in-law of Paget Foundation's long-time board member Dr. Ethel Siris.
In addition to the Noa Schwartz Siris Research Award, Dr. Fournier has received the Advances in Mineral Metabolism AIMM-ASBMR John Haddad Young Investigator Award, the American Society for Bone and Mineral Research Young Investigator Award and the British Bone and Tooth Society New Investigator Award.