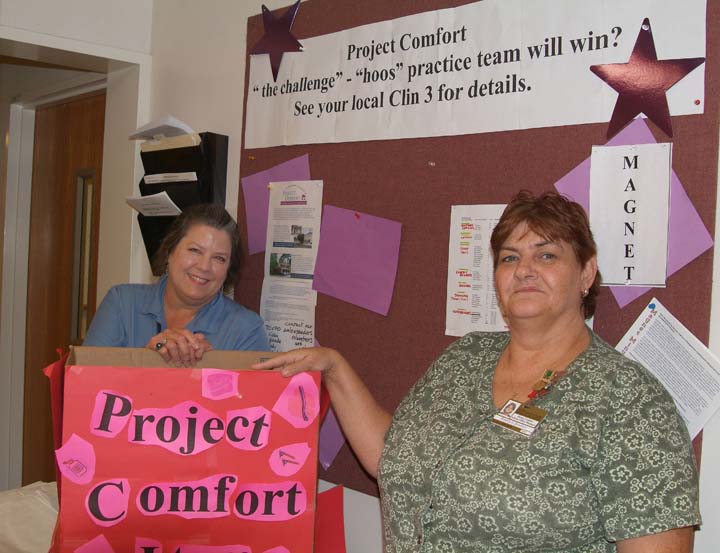 The aromas of shampoo and soap filled the halls of the University of Virginia Health System last week, as nurses packaged thousands of toiletries into "Comfort Kits" to be distributed to patients and families.
The Comfort Kits were the culmination of Project Comfort, a month-long drive where nurses asked hospital employees to donate toiletries to be used by patients and their families. The toiletries were then divided into bags to create approximately 1,200 gender-appropriate kits.
The kits will be distributed to patients or families of patients who are staying at the Kluge Children's Rehabilitation Center's Commonwealth Court or one of UVa's two Hospitality Houses. These three facilities provide lodging close to the Health System for patients who must travel a long distance to Charlottesville for outpatient care, or families of inpatients who are unable to stay elsewhere.
"The atmosphere is wonderful because it's very home-like, but it's still not home," said home health liaison Mary Miller, RN, BSN, a Project Comfort organizer who sometimes works with patients staying at the Hospitality Houses. "They often come from very limited circumstances, from a long distance away, and they don't have all the support systems that they have at home."
Miller and other Health System nurses developed the idea of Project Comfort as a way to celebrate the Health System's one-year anniversary of achieving Magnet Recognition from the American Nurses Credentialing Center. "Besides celebrating, we wanted to do something for the community, since community service is a Magnet quality," said Paula Darradji, RN, a discharge coordinator in the Newborn Intensive Care Unit. "We took the idea to the Magnet Champions, who meet once a month. We knew we wanted to do something that could take place twenty-four/seven and everyone could participate in, and we narrowed it down to something we could do for families within the institution."
The nurses got the idea from the Hospitality House staff, who were already in the habit of saving their toiletries from hotel stays and giving them to guests. "Many patients come here for a test and think they'll be here for the day, but then they have to come back," Darradji said. "It can be expensive to buy all those items for one night, even from a dollar store."
Darradji, Miller and other nurses asked co-workers to purchase toiletries such as shampoo, toothbrushes, lotion and deodorant and put them in plastic bags to create the Comfort Kits. Besides toiletries, Health System employees also donated goodies such as granola bars, phone cards, crossword puzzle books and DVDs for families to watch, and some wrote notes to the families who will receive the bags. Darradji estimated that employees spent between $5 and $10 per comfort kit.
"On some units, everyone donated money, and then some shoppers went out and bought the items in bulk," Darradjii said. "They brought them back to the unit and had parties to assemble the bags."
"It's been overwhelming, but not surprising, how well the employees of the Health System responded to this need," Miller said.
The nurses also asked area hotels to contribute and assembled smaller bags with those donations.
Although Darradjii and Miller are unsure if they will do the project again, many employees plan to continue helping Commonwealth Court and Hospitality Guests. "Every year, we plan to do something for the Magnet Designation celebration," Darradji said. "I think this project raised awareness for the staff. Some of them travel for work-related purposes, and they said, 'Now that we know there's a need, we'll collect the supplies on a regular basis.'"