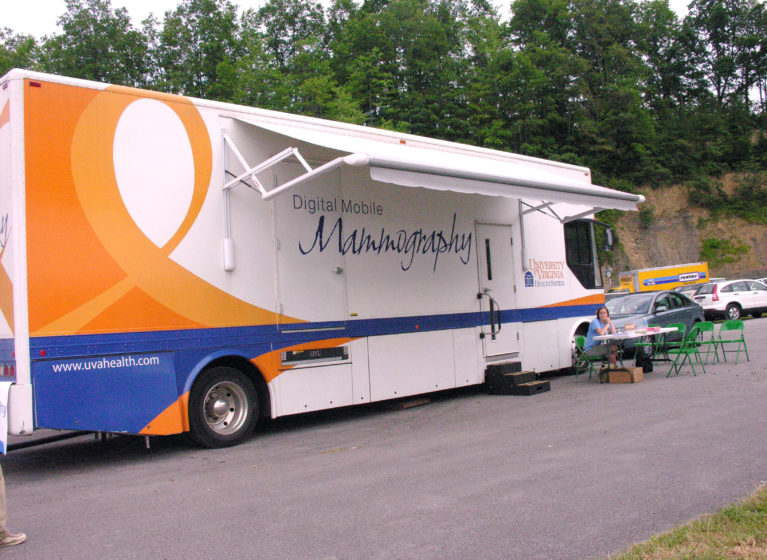 At 7:30 a.m. tomorrow, nearly four dozen women living in one of the most rural areas of Virginia will begin arriving for appointments at a state-of-the-art medical facility – the Commonwealth's only mobile digital mammography van, which is operated by the University of Virginia Health System.
Tomorrow's breast health clinic, which is being held at The Health Wagon in Clinchco, will mark the latest step in UVA's wide-ranging initiative to create sustainable health care solutions for uninsured and medically underserved residents of far southwest Virginia.
The clinic, which is being made possible by a partnership with The Health Wagon and the Virginia Department of Health's Every Women's Life program, is unique in that it offers free screenings and will provide state-supported follow-up care to uninsured patients who need it.
Funding for the clinic – which will be conducted at several other locations in 2009 – comes from several sources including a grant from the Health Resource Service Administration announced in October by U.S. Representative Rick Boucher of Virginia's Ninth Congressional District.
"Access to adequate breast care is often extremely difficult for women living in our area," says Teresa Gardner, NP, executive director of The Health Wagon. "Many are uninsured or underinsured, have low incomes, don't have close access to health care or don't have the means to drive long distances to visit their nearest provider. This clinic will provide such women with the care they likely wouldn't get otherwise."
Many women in rural Appalachia must travel long distances to receive breast care, yet national studies show that a majority of women in the U.S. are not willing or are unable to drive more than 20 miles to get a mammogram.
"This obstacle is further compounded by the paucity of subspecialty care in the Coalfields region," says Karen Rheuban, medical director of the Office of Telemedicine and an associate dean and professor in the UVA School of Medicine.  "UVA Telemedicine has teamed up with our Health System's Cancer Center and Department of Radiology to offer screenings close to where these women live. The program also will ensure they receive follow-up care as nearby as possible."
In an effort to provide clinic patients faster mammography results, the UVA Office of Telemedicine has equipped the mobile digital mammography van with a Proxy AutoConfig (PAC) server. This will allow X-ray technologists and mammographers to rapidly transmit the digital images from UVA telemedicine sites, like The Health Wagon, to radiologists at the Health System, who can then get screening results back to patients promptly.
An added obstacle in doing cancer screenings in remote geographic areas involves the follow-up care with patients.  "It's not very helpful for patients to get a mammogram if they have no ability to pay when further care is needed," says Gardner.
That's where The Virginia Breast and Cervical Cancer Early Detection Program (BCCEDP), also known as Every Woman's Life, comes into play.  The state-supported program will provide funding for clinic patients to get further diagnostic screening and follow-up services if needed.
Mortality rates from breast and other forms of cancer are a significant issue in far southwest Virginia.  An important part of addressing this problem involves early detection, because studies show mortality rates tend to decline when breast cancers are caught in earlier stages.  For women without access to health care, however, early detection is nearly impossible.
The UVA Cancer Center is dedicated to a comprehensive program of cancer control in this area of the state, including education, prevention, early detection and access to the latest care. Efforts are ongoing to improve prevention, screening and early detection of breast and cervical cancers.
"The ability to screen for and diagnose breast cancer in the early stages is essential in the fight against this devastating disease," says Congressman Boucher. "For several years, I have worked with the UVA Office of Telemedicine and local communities to secure federal funds to establish telemedicine sites and purchase mobile equipment so that residents in our area can avoid the time and expense associated with travel to a distant medical center for such screenings."