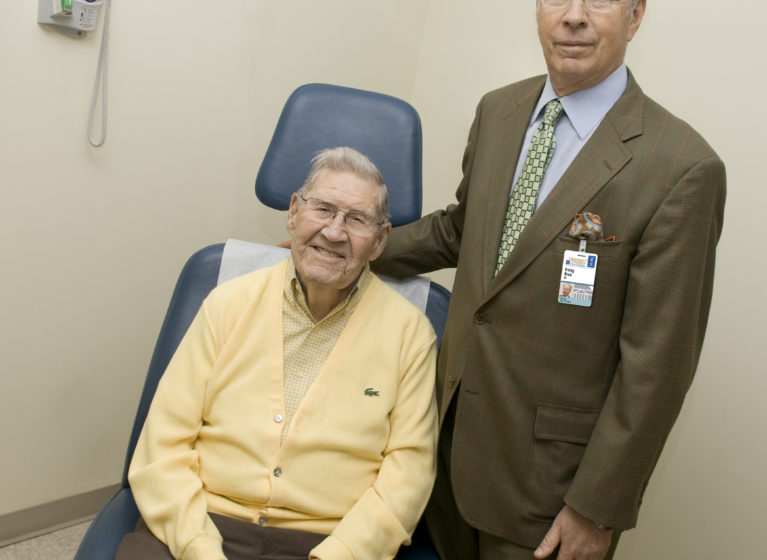 An alternative to open-heart surgery tested at the University of Virginia Health System may hold new hope for inoperable and high-risk patients suffering from a potentially deadly heart valve condition, a clinical trial suggests.
A Less-Invasive Approach for Heart Valve Surgery
The experimental procedure, tested in the Partner Trial, a clinical trial at UVA's Advanced Cardiac Valve Center and other major academic medical centers in the U.S, Canada and Germany, offers a much less invasive alternative. Rather than cutting open the chest, the new procedure sends a catheter from the leg or chest to the heart. Once the catheter is properly positioned in the heart, the surgeon inflates a balloon that installs a replacement aortic valve and pushes the diseased valve aside. The effect is instantaneous; the new valve begins working immediately.
The typical treatment for severe aortic stenosis – a narrowing of the heart's aortic valve – is open-heart surgery, which requires the surgeon to cut open the patient's chest and stop the heart. But that's often not an option for higher-risk patients in the elderly population, the group most affected by aortic stenosis, and for patients with other serious health problems.
"When a valve is obstructed like that, it puts a lot more pressure and strain on the heart, and the patient can struggle with the heart failure that results," said Scott Lim, MD, an interventional cardiologist and a principal investigator of the trial at UVA. "If you don't do something to treat that, to take care of that, it significantly shortens a person's lifespan, and dramatically worsens the quality of life as well."
Irving L. Kron, MD, a principal investigator in UVA's trial and chairman of UVA's Department of Surgery, called the new procedure "fantastic technology." "It's a little bit awe inspiring," he said. "Instead of opening someone's chest, you can put a valve in through the groin."
Promising Outcomes
Clinical trial findings, comparing the efficacy of the new procedure against open-heart surgery in nearly 700 high-risk patients, were released at a major medical conference in New Orleans this week. The trial found equivalent survival among patients who received the new procedure and the standard open-heart approach, and a trade-off between bleeding and stroke complications between those receiving the new procedure and those receiving open-heart surgery.
The clinical trial previously evaluated 358 inoperable patients. Half received the new procedure and half received other, existing forms of therapy, such as medication. Two years later, two-thirds of those receiving the standard treatment had died, while 80 percent of those who underwent the new procedure remained alive.
A Life-Changing Procedure
One patient who recently received the procedure at UVA was a 94-year-old from Williamsburg, Robert Kean. He had enjoyed working in his yard and taking morning walks, but had lost the ability to do so because of shortness of breath stemming from his aortic stenosis. He came to UVA and underwent surgery performed by Lim and Gorav Ailawadi, MD.
"I had trouble breathing. I was out of breath with the slightest exertion. And they kept telling me the valve is shrinking. The only answer was to have that replaced, and that's what we did," Kean said.
"I had no pain. I thought I would have, but I didn't. I didn't have any discomfort. Really I was quite surprised and pleased that everything went so good," he said. "I don't have the strength that I want yet, but I expect that will come. Other than that, I'm sleeping good, I eat good, I'm fine."
Research Continues
While more research remains to be done, UVA researchers are optimistic about the procedure's potential.
"It's exciting technology," Kron said. "We don't know its limitations yet. We don't know how long it will last. But what we're seeing right now looks awfully good."