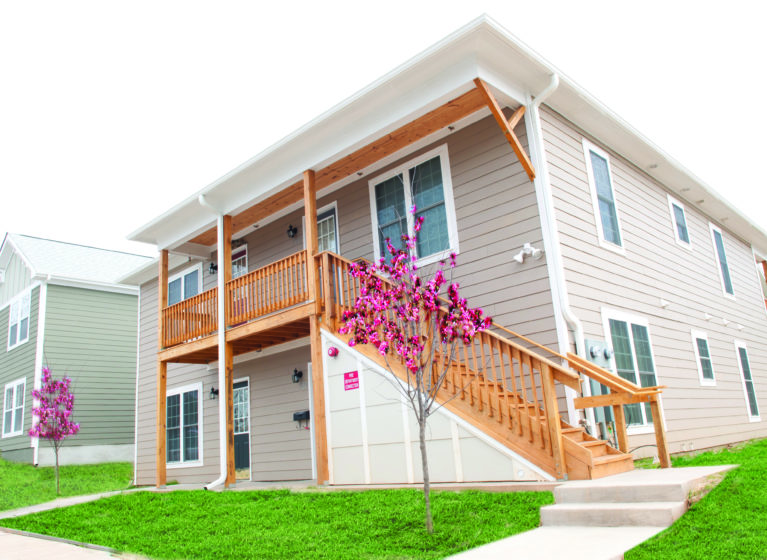 As Habitat for Humanity of Greater Charlottesville marks the completion of its first mixed-income community, the University of Virginia Health System is celebrating the success of the neighborhood's Health House, a joint venture with Habitat that brings high-tech monitoring to help control residents' chronic health conditions.
The two revolutionary Health House residences, the first of their kind, feature easy-to-use technology that allows occupants to measure their vital signs and send the information directly to their caregivers 24 hours a day. It's a groundbreaking approach that may ultimately save the nation billions in healthcare costs and allow more people to remain in their homes.
"A whole range of medical conditions can be monitored using these remote monitoring tools," said Karen Rheuban, MD, Medical Director of UVA's Office of Telemedicine. "These are fabulous tools that allow patients with chronic disease to be treated and followed at home, preventing unnecessary re-admittances to the hospital and improving their health outcomes."
The Health House's innovations arrive at a time when healthcare reform has become a national concern. By using technology creatively, UVA is demonstrating ways that healthcare costs can be reduced through preventative monitoring and early treatment.
"These become the models. One of the reasons we wanted to develop Health House was to show we could effectively do home monitoring," said David Cattell-Gordon, Director of Rural Network Support in UVA's Office of Telemedicine. "I think successful projects are those that are driven by community need, based on good data, moved forward by strong relationships and at the end of the day, demonstrate good outcomes based on good health."
Elizabeth Wrenn, a UVA employee and one of the two Health House residents, said her new condominium on Paton Street helps her monitor her blood pressure and diabetes. She's excited to be a first-time homeowner.
"I love it. I really love it," she said. "It's something I'm paying for, and it belongs to me, and I can do what I want to do."
Dan Rosensweig, Executive Director of Habitat for Humanity of Greater Charlottesville, shares her enthusiasm. He hailed the Health House, its technology and all the efforts that went into its construction.
"I think it was a great collaboration and very innovative idea whose time has come," he said.
"For a partner family, a house is sort of the beginning of everything," he said. "Not only is it equity, not only does it let them have some skin in the game, it lets them have a home of their own."
The Health House project launched in 2006 as a community service initiative, part of UVA's efforts to reach out to underserved communities. Ground was broken for the house in December 2009, with Intel and Comcast playing key roles in the remote monitoring.
UVA's partnership with Habitat was supported by the university community through the Commonwealth of Virginia Campaign, which helped raise the needed funds. UVA volunteers also contributed more than 1,600 hours of service to make the house a reality.
"We used high-tech things like hammers and nails. It's important to remember about building things: It's about technology, but it's also about teamwork," Gordon said. "Habitat as a partner can remind us how important teamwork really is. They get it."
Media opportunities at the event:
What: Habitat for Humanity of Greater Charlottesville and UVA Health System are having a block party to celebrate the completion of a new Paton Street mixed-income neighborhood.
When: Saturday, April 16. Celebration will take place from 1–4 p.m., with remarks promptly at 1:30 p.m.
Where: Paton Street neighborhood off Cherry Avenue in Charlottesville
Media Opportunities:
Interview UVA leaders and creators of the innovative Health House Interview one of the Health House residents Get videos and photos of the Health House and Patton Street neighborhood
####