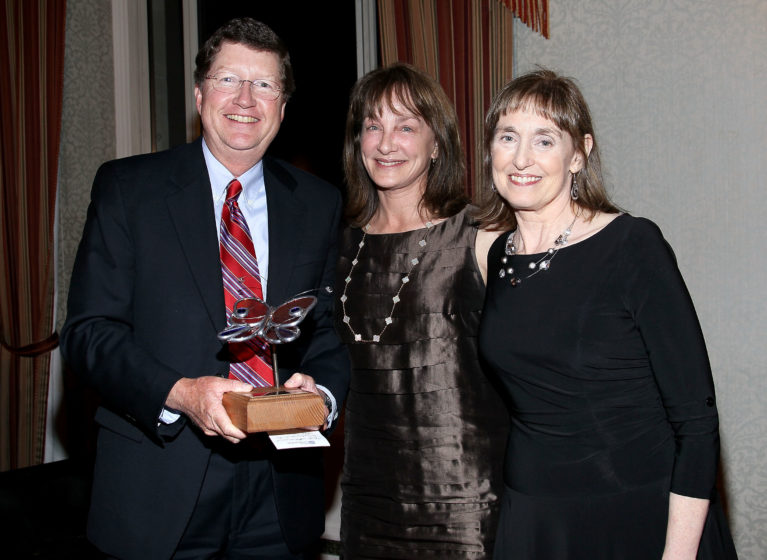 At an awards gala held April 25 at the New York Athletic Club, James C. Turner, MD, executive director of University of Virginia Student Health and professor of internal medicine in the UVA School of Medicine , was honored with the Health Achievement Award by the National Meningitis Association (NMA) for his tireless work in establishing national meningococcal vaccine policies over the past 15 years.
Turner says his interest in preventing the disease in the United States began after five UVA students contracted severe cases of invasive meningococcal infection, a cause of both bacterial meningitis and septicemia, in the mid-1990s – a time when outbreaks of the disease were occurring more frequently on college campuses around the country.
Meningococcal infection can involve either inflammation of the membranes covering the brain and spinal cord or blood sepsis, with rapid onset of severe symptoms that can quickly lead to coma, seizures, shock, and organ failure. The bacteria is spread in respiratory secretions through household contact, sharing drinking glasses, kissing, or  living in crowded condtions such as dormitories.  The disease can be fatal within a very short period of time, even with appropriate antibiotic treatment.
"In the wake of our five cases, we decided to recommend the vaccine for incoming students at UVA," says Turner. "That decision was somewhat controversial because no such recommendations existed at other universities at the time. But we believed it was the right thing to do to protect our students."
Turner urged the American College Health Association (ACHA), of which he has been a longtime member and is past president, to begin an educational program for students and their parents about the disease.
At the same time, Turner and the ACHA played a significant role in commissioning the U.S. Centers for Disease Control (CDC) to conduct a study to determine if college students were at an increased risk for contracting meningitis. That 1999 study revealed that college freshmen in dormitories indeed had a four- to five-fold increased chance of contracting the disease.
In 1999 Turner testified at the CDC's Advisory Committee on Immunization Practices (ACIP) meeting along with survivors and families who had lost loved ones to the disease.
"Despite economic models suggesting it was not cost beneficial to society, ACIP was moved by the testimony about the horrors of the disease and created a recommendation in 2000 that college freshmen living in dorms consider vaccination," Turner says.
Turner spent a great deal of time travelling the country educating health care providers about the disease and vaccination. He also appeared in dozens of national media outlets, including ABC's 20/20, to raise public awareness.
"In 1997 when I first embarked on our recommendations here at UVA, virtually none of America's college students were vaccinated against meningococcus," says Turner. "But in the fall of 2010, ACHA's annual survey of college students found that 60 percent of students were vaccinated."  This increase, explains Turner, is due to CDC and ACHA recommendations, education of providers, and state legislation that requires or recommends vaccination.
"The incidence of the disease in the US is the lowest in recorded history," Turner says.  "Though hard to prove, I hypothesize it is because we have such high vaccination rates among college students and adolescents, who serve as vectors for the disease. I am proud to have contributed to this important public health project and greatly appreciate the recognition by the NMA. "