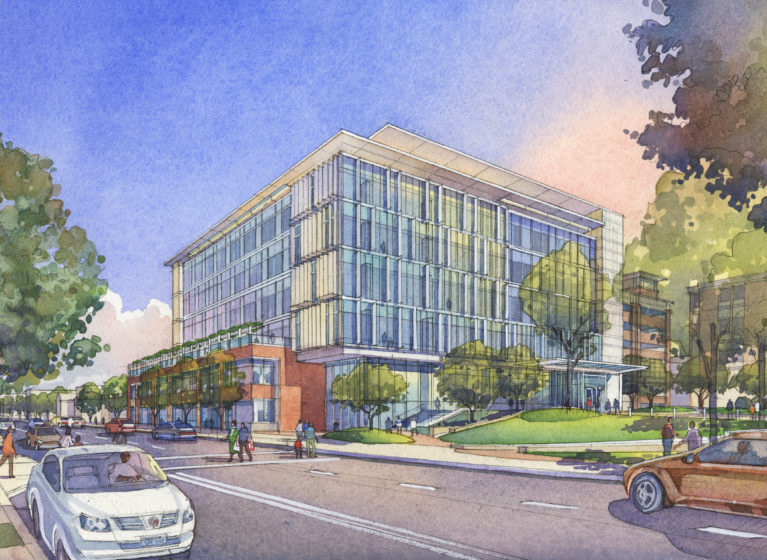 To better serve children with complex illnesses, University of Virginia Health System leaders told staff this week about plans to transition outpatient children's care over the next several years from the Kluge Children's Rehabilitation Center (KCRC) to the Battle Building. Most of the moves will start in the fall of 2013 through 2014.
Now under construction at the corner of West Main Street and Jefferson Park Avenue, the Battle Building at UVA Children's Hospital will consolidate outpatient care for children now provided at KCRC and several other outpatient locations throughout Charlottesville. The approximately 200,000-square-foot building is scheduled for completion in 2014. KCRC inpatient services will be relocated to UVA's main inpatient hospital, while rehabilitation services will be moved to both the Battle Building and UVA HealthSouth at Fontaine Research Park.
"While KCRC has served us well for more than 50 years, it no longer meets the needs of our pediatric patients for specialized care," says Lorna Facteau, RN, DNSc, UVA Health System's Chief Nursing Officer. "The Battle Building will enable us to provide the state-of-the-art care that our patients need."
Some of the benefits of the planned move to the Battle Building include easier access to all of the resources available at UVA's main hospital, including a full range of specialists, high-tech imaging and the pharmacy. The Battle Building will also provide covered, attached parking and generous waiting and play areas for patients and their families.
"Moving the services now provided at various locations to the Battle Building will help us become more efficient and better equipped to respond to the needs of our patients at UVA Children's Hospital, including those currently served at KCRC," says James P. Nataro, MD, PhD, MBA, FAAP, chair of UVA's Department of Pediatrics. "We believe this transition will help UVA further advance its reputation as a leader in pediatric care."
UVA Health System is working to ensure continued employment for all KCRC employees as the moves take place.