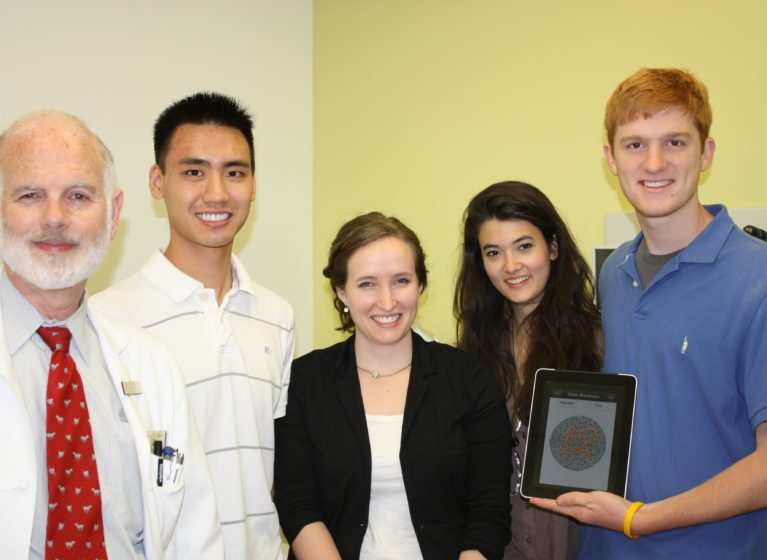 A team of University of Virginia physicians and biomedical engineering students have developed a smart phone application, "Pocket Eye Exam," to help healthcare providers more easily diagnose vision problems related to neurological disorders and to help students learn about the underlying anatomy and physiology.
The application received 1,036 downloads during a recent free two-week downloading period, and early reviews have given the product four- and five-star ratings.
Pocket Eye Exam was one of 33 UVA Biomedical Engineering (BME) Capstone team projects this year, involving a total of 73 undergraduates. Now in its seventh year, the UVA BME Capstone Program teams undergraduate biomedical engineering students with UVA physicians and researchers to develop innovative products with real-world healthcare applications. This year's projects earned more than $60,000 in competitive research funding from a variety of UVA, industry and private funding sources.
The Pocket Eye Exam application was sparked by a question asked last spring by neurology resident Amy Guzik, MD, as she conducted a vision test at the UVA Medical Center with Professor of Neurology Ivan S. Login, MD. "We learned some critical information from that test, and Amy said to me, 'I wonder if that could be incorporated into a smart phone app?'" Login says.
Login and Guzik faced two main obstacles to creating the application: no money and no knowledge of how to create a mobile platform. Then Login remembered attending a lecture several years earlier by Capstone Project leaders. "I recall being excited by their initiative and envisioned creating a project in the future," says Login. "And here finally was the ideal project laying itself out before me."
Developing the app
Login and Guzik provided the necessary medical information and the testing needs, while the biomedical engineering students – Stephen Dang, Kelsey Kennan, Russell Matney and Mary Saunders – developed the programming and educational portions of the application.
The Pocket Eye Exam replaces several cumbersome handheld testing materials that neuro-ophthalmologists traditionally carry between exam rooms. The educational section teaches users how to apply the tests and provides guidelines for interpreting the results. Healthcare providers do not require Internet service to use the application, making this tool especially useful in remote or hostile environments, including military situations. Saunders and Guzik tested their program with nine neurology residents, who all gave it excellent scores.
"It greatly reduces the need to carry a variety of traditional pocket diagnostic tools," Login says. "The educational components will be particularly helpful to students learning the diagnostic skills."
Along with hopefully improving medical education and patient care, developing the application has also changed Saunders' career goals. "I now want to work with patients and physicians more closely, rather than being in a lab all day, so I can stay connected to the people I'm trying to help," she says.