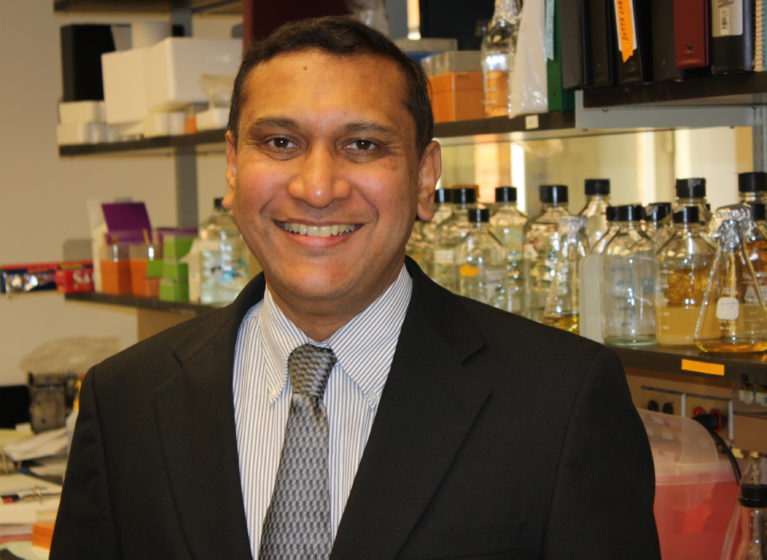 CHARLOTTESVILLE, Va. – Steven T. DeKosky, MD, FAAN, FACP, Vice President and Dean of the University of Virginia School of Medicine, has appointed Anindya Dutta, MBBS, PhD, as Chair of the Department of Biochemistry and Molecular Genetics after a broad national search.
"I am honored to be chosen to lead UVA's outstanding Department of Biochemistry and Molecular Genetics.  I look forward to building on the exceptional leadership of my predecessor, Professor Joyce Hamlin, to establish the Department as one of the best in the country" Dutta said.
Dutta was recruited to the UVA School of Medicine as the Harry F. Byrd Professor of Biochemistry in 2003 from Harvard Medical School, where he served as Assistant and Associate Professor of Pathology. At that time, he was appointed Director of Functional Genomics in the UVA Mellon Prostate Cancer Research Institute and is the co-leader of the Genetics and Epigenetics Program of the UVA Cancer Center.
"Dr. Dutta is recognized internationally for his work involving how human cells replicate their chromosomes, and his groundbreaking discoveries have direct applications to the prevention and treatment of cancer." said DeKosky. "His leadership in research and teaching undoubtedly will benefit the department, its faculty, students and patients here at UVA and beyond."
After receiving his medical degree in 1981 from Christian Medical College, Vellore, one of the foremost medical schools in India, Dutta pursued his Ph.D. in Viral Oncology with Professor H. Hanafusa of the Rockefeller University in New York.  He was an American Cancer Society Fellow during his postdoctoral work with Professor Bruce Stillman of Cold Spring Harbor Laboratory, New York.  He did a short residency in Anatomic Pathology at Brigham and Women's Hospital, Harvard Medical School, before joining its faculty.
Dutta's renowned research includes discovering the key regulatory proteins that initiate replication of chromosomes, as well as factors that prevent cells from over-replicating their DNA. His discoveries have led to a new compound under development that can kill cancer cells by forcing them to over-replicate their DNA.  Additional work from his laboratory has shown how microRNAs push our cells to differentiate or to turn into cancers, and how a human papilloma virus oncogene can subvert a cell's response to DNA damage.
Dutta is a member of the American Society for Biochemistry and Molecular Biology, the American Society of Investigative Pathology, the American Society of Cell Biology, the American Association for the Advancement of Science, and the American Association for Cancer Research, among other professional societies.
Dutta has been elected a Fellow of the American Association of Advancement of Science, and won the Ranbaxy Award for basic research and service as a Senior Editor for the journal Cancer Research , published by the American Association of Cancer Research.
"In his new role as department chair, Dr. Dutta will foster collaborations within the School of Medicine and across Grounds in the areas of genomics, genetics, and epigenetics," said DeKosky. "He will support the Cancer Center through both basic research and in the development of ideas generated in Biochemistry that have significant translational applications."
DeKosky added, "I would like to thank Dr. David Brautigan and the search committee, who did a superb job."