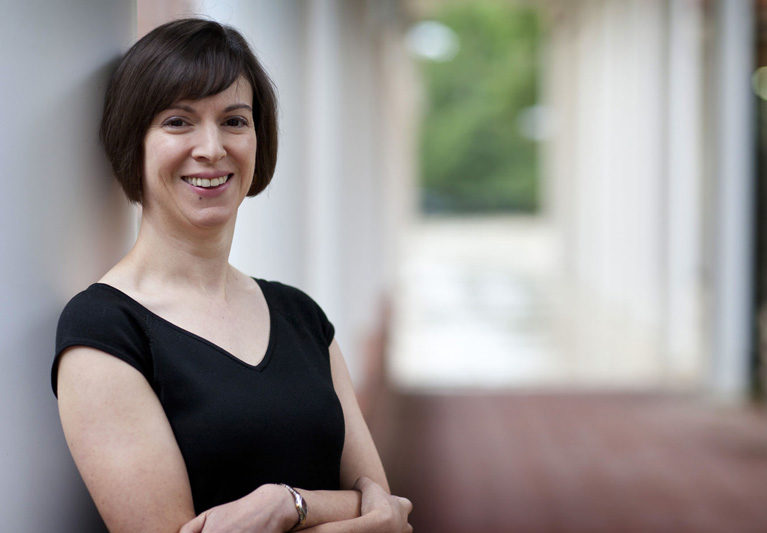 CHARLOTTESVILLE, Va. – University of Virginia Health System Microbiologist Alison Criss, PhD, is one of only five researchers in the nation to receive the competitive 2011 ICAAC Young Investigator Award from the American Society for Microbiology (ASM). The award was presented on September 19, 2011, at the Interscience Conference on Antimicrobial Agents and Chemotherapy (ICAAC), held in Chicago, Ill.
"It's an extraordinary honor to receive this award, and I am very thankful to the American Society for Microbiology and my nominators, who are exceptional mentors and scientists," says Criss, who has been assistant professor of microbiology in the UVA School of Medicine since 2008.  "It is gratifying to be recognized as an early career scientist for my contributions to bacterial pathogenesis."
Criss was nominated by her postdoctoral advisor H. Steven Seifert, fellow of the American Academy of Microbiology, who describes Criss as an "extremely intelligent, insightful, diligent, meticulous, hard-working person who tackles problems head-on." She received her Ph.D. from Harvard University and completed her postdoctoral fellowship at Northwestern University.
Now in her UVA laboratory, Criss is conducting innovative research to discover new, alternative ways to combat the sexually transmitted disease (STD) gonorrhea.
STDs like gonorrhea are becoming increasingly resistant to traditional tried-and-true antibiotic treatments — it's a crisis that the U.S. Centers for Disease Control (CDC) calls a major public health concern. Over the past decade alone, the bacterium that causes gonorrhea has developed an alarming resistance to nearly all antibiotics previously used to cure this highly infectious STD that infects hundreds of thousands of Americans every year.
"Gonorrhea is very dangerous if it isn't immediately treated with antibiotics because it can cause pain and infertility in both men and women," Criss says. "And women are especially at risk for a condition called pelvic inflammatory disease, which can lead to pregnancy outside the womb and maternal and fetal death."
The Centers for Disease Control and Prevention currently recommends treatment for gonorrhea with two antibiotics, a cephalosporin plus azithromycin or doxycycline.  Unfortunately resistance to all of these antibiotics has been documented, Criss explains, and it's known from previous experience with other antibiotics that once resistance develops, it rapidly spreads through the population.
In the past year infectious disease experts have isolated N. gonorrhoeae ( the bacteria that causes gonorrhea) that are resistant to all antibiotics. "This makes it almost inevitable that fully antibiotic-resistant 'superbug' gonorrhea bacteria will be rampant in the coming years," says Criss. Criss and her team of UVA researchers are one of only a handful of groups around the world attempting to understand how N. gonorrhoeae bacteria survive exposure to human immune cells, called neutrophils – white blood cells that combat almost every kind of bacterial or fungal infection.
By identifying the defenses gonorrhea bacteria use against neutrophils, Criss's lab hopes to create novel therapies to target those defenses. This would allow the immune system to gain the upper hand and clear the infection.
"Because nearly all antibiotics are ineffective in treating gonorrhea, it's imperative to develop new defenses," says Criss. "This kind of approach also could be used to treat many other kinds of infections that involve neutrophils."
Criss's research has been supported through startup funds from UVA and a career translational award from the National Institutes of Health.
"Discoveries that basic scientists make to combat human disease would not be possible without federal funding," Criss adds. "We do basic research on the gonorrhea bacteria in hopes that our discoveries will translate into clinical therapies physicians can use to treat infections."
See award announcements in Microbe Magazine: 2011 ICAAC Young Investigator Awards.