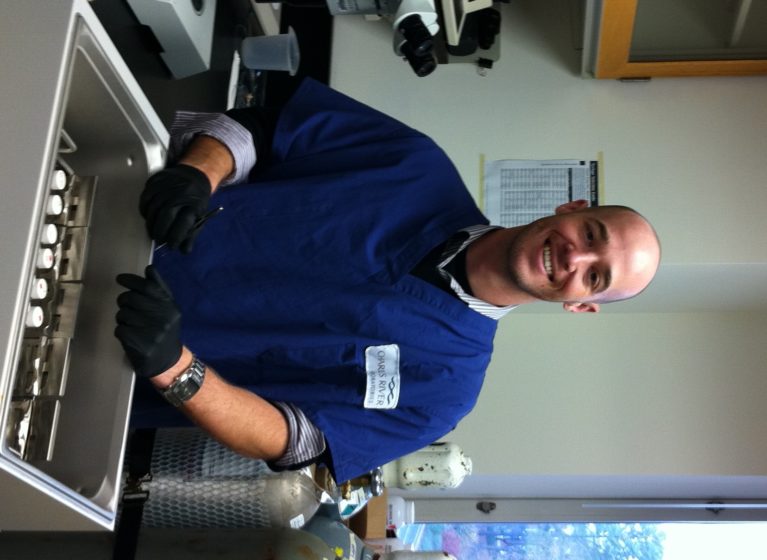 CHARLOTTESVILLE, Va. — The UVA School of Medicine Dean's New Faculty Seminar Series kicked off September 15, 2011 in Jordan Hall Auditorium with a research presentation by Kyle Hoehn, PhD, Assistant Professor of Pharmacology. School of Medicine Dean Steven T. DeKosky, MD, FAAN, FACP, initiated the new seminar series to build collaborative research relationships across Grounds and introduce new faculty members' research to a broader audience within the School and the University.
"Our goal with this new seminar series is to bring our new research faculty into the fold of the collaborative nature of research at UVA," said DeKosky. "We are a large school and institution with immensely talented researchers spread across the Health System, so this seminar series is an ideal opportunity to connect scientists with similar and complementary research strengths. It is my hope that this merit-based series will speed the introduction of exciting new research ideas, and accelerate collaborations and interactions between our new faculty and all of our established colleagues."
In the first of the ongoing seminar series, Hoehn gave an hour-long presentation, "Multiple Insulin Resistance Pathways Converge at Mitochondria," describing his laboratory's cutting-edge research investigating the origin of insulin resistance, which is a precursor to type 2 diabetes and cardiovascular disease.
Those attending the seminar included post-graduate students, fellow new faculty, tenured faculty, School of Medicine research deans, Dean DeKosky and others. Joseph Larner, PhD, professor emeritus of pharmacology and department chair from 1969 – 1990, was among lecture attendees and was the first of several to raise curious inquiries into Hoehn's research during the Q & A portion of the seminar. Although retired for a number of years, Larner continues his work into understanding insulin resistance.
Hoehn's laboratory is onto a new pathway of investigating insulin resistance at a cellular and molecular level. He began his work 10 years ago as a PhD student at Colorado State University and continued through his post-doctorate work in Sydney Australia. His research is rooted in testing whether different types of insulin resistance have different pathways or share a similar mechanism.
Obesity, pregnancy, aging, and polycystic ovarian syndrome all cause insulin resistance, and Hoehn and collaborators were the first to show that all of these conditions converge upon the same pathway. Specifically, they identified mitochondrial oxidative stress as a central nexus of insulin resistance, which is widespread across most types of insulin resistance. Hoehn hopes that his findings will create a renewed interest and focus on this pathway for the treatment of diabetes.
"Insulin resistance is considered a gateway disorder in that it predisposes people to develop serious metabolic diseases such as Type 2 diabetes and cardiovascular disease," said Hoehn. "Our lab is interested in defining the earliest cellular and molecular defects that define the pathology of insulin resistance with the rationale that this will lead to the development of new pathways for intervention in diabetes and other serious metabolic disorders."
Hoehn has received seed funding from the American Diabetes Association through a Junior Faculty Award and through the UVA School of Medicine's Launch Pad Fund. He currently is looking for graduate students from a variety of backgrounds to assist in his group's research.
Upcoming School of Medicine New Faculty Seminars:
Thursday, October 20, 4:00pm Presenter – Hui Li, PhD, Assistant Professor of Pathology in the Cancer Center Topic – Chimeric RNAs and Their Implications in Cancer
Wednesday, November 16, 4:00pm Presenter – James Stone, MD, PhD, Assistant Professor of Radiology Topic – Neuroimaging Correlates of Repetitive Blast Exposure in Human Military Service Members
Thursday, December 15, 4:00pm Presenter – Adrian Halme, PhD, Assistant Professor of Cell Biology Topic — TBD