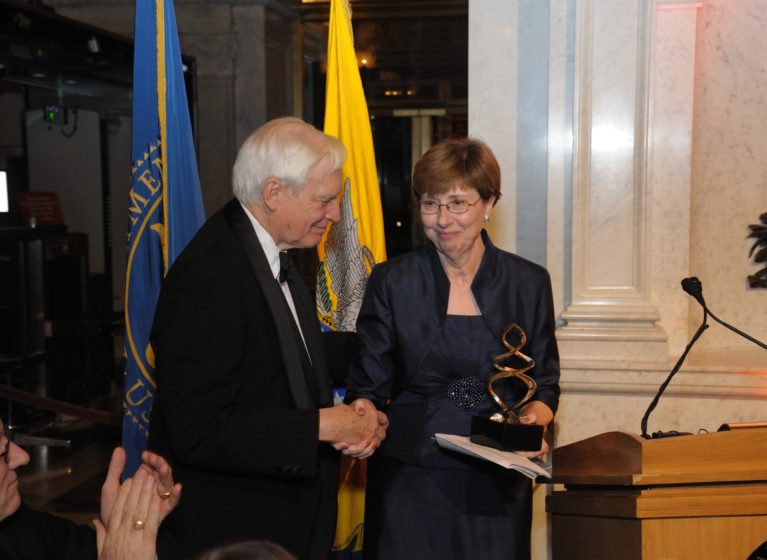 Whether helping cancer patients find accurate information or caregivers for Alzheimer's patients overcome a sense of isolation, Ann Duesing has spent 16 years connecting Southwest Virginia residents with information to help them live healthier lives.
Her dedication and her ability to build partnerships with community groups helped Duesing, outreach librarian for Southwest Virginia with the University of Virginia Claude Moore Health Sciences Library , win the National Library of Medicine Michael E. DeBakey Library Services Outreach Award. The award is given annually to honor a health sciences librarian assisting an underserved community.
Making healthcare information easier to access
Based at UVA's College at Wise, Duesing sees her role as helping residents overcome barriers – whether geographic, financial or informational – to get the knowledge and care they need. "There's such a need for access to healthcare and information about healthcare," she says.
Duesing has helped expand access by combining her deep commitment to the region with an ability to foster collaboration. "She has the ability to develop positive, long-lasting relationships in the community and with community leaders," says Gretchen Arnold, associate dean and director of the Claude Moore Health Sciences Library.
The leader of one community group that frequently partners with Duesing says her tireless work ethic and inclusiveness make it easy to team with her.
"Other people enjoy working with Ann because she includes everyone, treats everyone with equal respect, never takes herself too seriously and is lots of fun," says Marilyn Pace Maxwell, executive director of Mountain Empire Older Citizens (MEOC). "She is generous with her time and generous in her relationships with others. People respond positively to her generosity of spirit."
Efforts have benefited Alzheimer's, cancer patients
She has played a key role in several major health initiatives, including:
TechWorld: A partnership that includes MEOC and local public schools, the program uses student volunteers from area high schools to teach computer skills to caregivers for patients with Alzheimer's and other conditions. The program helps caregivers, many of whom provide around-the-clock care, to access health information and other resources, such as support groups. Mountain Laurel Cancer Support and Resource Center: Through a partnership with MEOC, the center helps residents access online information about cancer and cancer treatments and also provides gas cards and food to patients who travel to receive cancer treatment. Duesing helped secure a grant for a touch screen computer and printer to provide cancer information updated monthly. Healthy Appalachia Institute: Duesing is a faculty member at the institute, charged with helping leaders of health projects access information to help them in their work.
"She has touched an endless number of people and her influence continues to be far-reaching and substantial," Maxwell wrote in her letter nominating Duesing for the award.