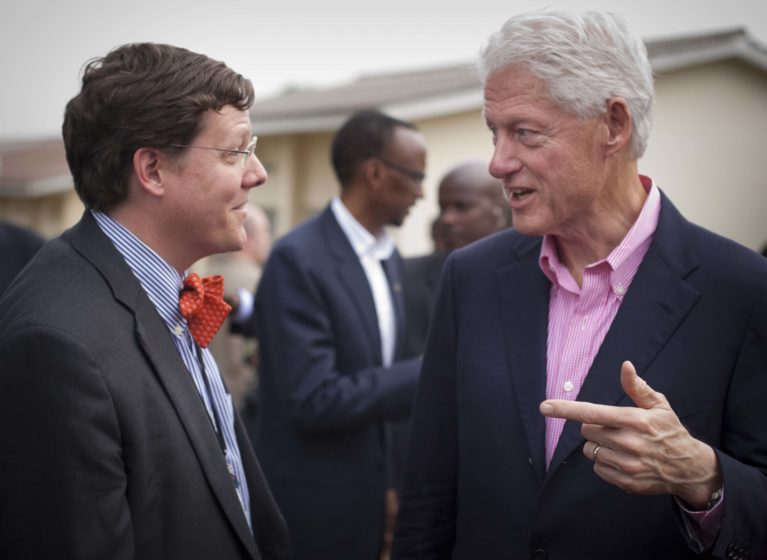 A veteran of medical mission trips that send nurses and doctors overseas for a few weeks, University of Virginia trauma surgeon Forrest Calland, MD, was looking to create a longer-lasting impact on healthcare in another country.
Calland believes he has found an ideal opportunity to do that through a novel partnership between the Ministry of Health in the African nation of Rwanda and the U.S. government. Facilitated by the Clinton Health Access Initiative (CHAI) run by former President Bill Clinton, 13 U.S. schools of medicine, nursing and public health – including the UVA School of Medicine – will partner with Rwanda's Ministry of Health to expand training opportunities and provide the country with more, better-trained health professionals.
Instead of providing care directly as is typically done on medical missions, the U.S. faculty will train the trainers – Rwandese healthcare workers who can in turn educate future generations of Rwandese doctors, nurses and allied health professionals. The goal: create within seven years a world-class, specialized nationwide healthcare education system in Rwanda run solely by Rwandans.
Calland was looking for a country that was stable, secure and whose government and healthcare workers were willing to work with U.S. doctors and nurses. He started to investigate Rwanda as a possible place to work after talking with a former UVA medical student, Niloo Ratnayake, who had worked for Rwanda's Ministry of Health. Calland said she told him "you'd be crazy not to go there" based on her positive experiences.
As Calland began meeting with Rwandan officials, he was invited by CHAI – which was involved in similar discussions – to partner with the Ministry of Health to develop the Rwanda Human Resources for Health (HRH) Program. Based on the joint proposal, the U.S. government is providing more than $27 million for the program's first year, along with more than $6 million from the Global Fund to Fight AIDS, Tuberculosis and Malaria.
UVA is responsible for providing and mentoring three to four surgeons and one or two anesthesiologists for the HRH program; some will be existing faculty members who will relocate to Rwanda for a year or two, while other surgeons will be hired by UVA and assigned to work in Rwanda.
Increasing the supply of trained surgeons is important, Calland said, because "an overwhelming number" of Rwandans either die or live with untreated injuries and other conditions because of limited access to several forms of simple care, including removing tumors and fixing fractures. According to the World Health Organization, more people worldwide die each year from injuries than from HIV/AIDS, malaria and tuberculosis combined.
Rwanda also only has one anesthesiologist per 1 million residents, says UVA anesthesiologist Marcel Durieux, MD, PhD. That is far fewer than the U.S., which has one anesthesiologist for every 7,500 residents. The lack of trained anesthesiologists in Rwanda, he said, leads to higher death rates both during and after surgery.
UVA hopes to also eventually send a radiologist to Rwanda to assist with training, Calland says.