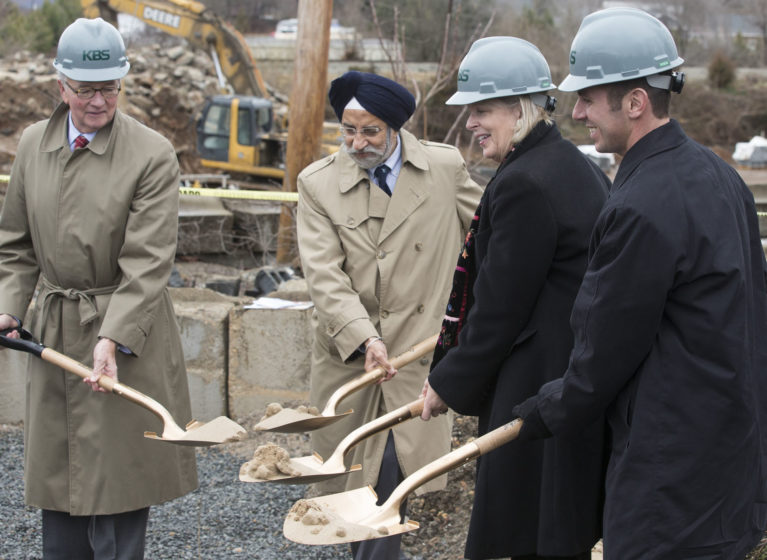 Construction officially kicked off Jan. 16 for the Blue Ridge Program of All-Inclusive Care for the Elderly, or PACE, which will provide an alternative to nursing homes that enables Central Virginia seniors to continue living at home.
The Blue Ridge PACE Center is a joint venture of the University of Virginia Health System , the Jefferson Area Board for Aging and Riverside Health System. Riverside operates five other PACE centers in Virginia. Once the one-story center is complete, it will join approximately 85 PACE organizations across the U.S. serving more than 30,000 participants in 29 states.
"Blue Ridge PACE will focus on meeting the needs of seniors so they can stay in their homes and live comfortably for as long as possible," said Dorrie Fontaine, dean of the UVA School of Nursing and chair of Blue Ridge PACE's board of directors.
The Blue Ridge PACE Center, located at 1335 Carlton Ave., will care for approximately 175 seniors in Charlottesville and the counties of Albemarle, Fluvanna, Greene, Louisa and Nelson. The program will be open to residents ages 55 and older who meet Virginia's criteria for nursing home admission.
"How many people would rather have their care provided while living at home?" asked William Downey, Riverside Health System's CEO.
The center is slated to open this fall, once it receives formal approval from the commonwealth of Virginia and Centers for Medicare & Medicaid Services. Discussions are under way about setting up satellite PACE locations in Nelson and Louisa counties, said Gordon Walker, CEO of the Jefferson Area Board for Aging.
Designed to improve patients' quality of life while providing care in a more cost-effective manner, PACE provides another option for seniors who would consider entering a nursing home. Patients will be able to access coordinated medical care at the PACE center, along with meals, field trips and other social activities. PACE will also provide transportation to and from the center for all activities.
The care providers will be intimately involved in setting up the individualized care plan for each patient. "The access and quality of care of senior care in our community will be elevated by the Blue Ridge PACE program," Walker said.
Medicare and Medicaid are the primary funding sources for the federally authorized program, although seniors without Medicaid or Medicare coverage are able to join for a fee.
The Blue Ridge PACE partners estimate the project will generate approximately 30 construction jobs and 50 to 60 health care-related positions.