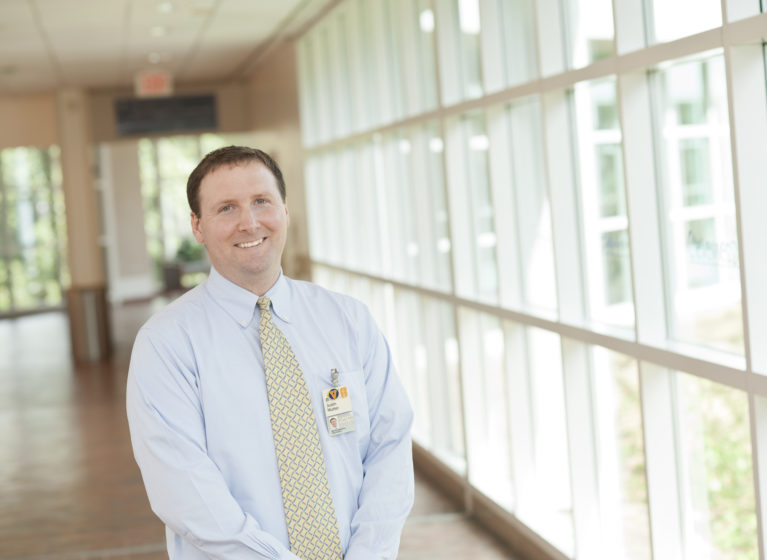 A career in family medicine serving underprivileged rural patients may appear to be a U-turn for someone who majored in religious studies and modern studies in the English department as an undergraduate in the University of Virginia's College of Arts & Sciences . But for Justin Mutter – now a member of UVA School of Medicine's Class of 2013 – it's a path he has been on since childhood.
Mutter's father, Mitchell, is a cardiologist who founded the Children's Nutrition Program of Haiti. As a child in Lookout Mountain, Tenn., Justin Mutter made several trips to Haiti with his father, where the poverty and extraordinary health needs faced by Haitians made a "profound impact." "My father is one of my role models," Justin said. "He saw [his work in Haiti] as part of his vocation."
After earning an undergraduate degree from UVA in 2003, Mutter spent two years as a health care worker with Partners in Health in Boucan-Carre, a community in central Haiti. Mutter managed a community nutrition program for children, helped care for patients with HIV/AIDS and tuberculosis and was a part of a program to control the spread of tungiasis, a type of skin infection.
Working for Partners in Health, Mutter said, gave him a sense of the broad role primary care doctors can play in helping their patients. These physicians not only provide medical care, he said, but also serve "as liaisons between the medical system and the social support network."
His horizons were broadened further after he received a Rhodes Scholarship and earned a Master of Science degree in the history of science, medicine and technology at Oxford University in 2007. His graduate studies there focused on how politics and the local and regional economy can affect patterns of disease and access to care.
"These [factors] are very much a part of a patient's life," he said.
After completing a pre-medical program at Johns Hopkins University, Mutter enrolled at UVA School of Medicine in 2008 and joined the Generalist Scholars Program , designed specifically for students interested in pursuing a career as a primary care physician. He quickly impressed the faculty and his classmates with his "dedication, work ethic, wisdom and humble, approachable manner," Dr. Richard Pearson said.
"His interest in and understanding of health care policy, social anthropology and caring for underserved populations were incredibly valuable and timely in an era of health care reform and in regard to the tremendous suffering of our neighbors in Haiti, where he had lived and worked for [two] years," wrote Pearson, the Medical School's associate dean for student affairs, in nominating Mutter for a Pisacano Scholarship that he won last year.
Mutter quickly became a leader within the Generalist Scholar Program, launching a website to better facilitate communication between students and faculty, and partnering with another student to begin a journal club focused on primary care issues.
"He is a tireless mentor to the other students in the program and universally recognized by his peers as a thought leader, particularly in the health policy arena," wrote Dr. Sean Reed, who directs the Generalist Scholar Program. "He has the ability to deftly ignite passion and inspire those around him – important qualities of an effective leader. Justin easily finds commonality with a wide range of people. Never careless with his words and always reflective of others' points of view, he is unfailingly thoughtful and collaborative in his approach."
Mutter said he appreciated the opportunities he received during his time in medical school, including the chance to work as a fellow at the Healthy Appalachia Institute , which seeks to improve access to care and the health of residents throughout Appalachia. He also had great experiences both with the medical school's faculty – "They see teaching as a priority," he said – and his classmates.
"I was just so impressed with my fellow students," he said. "Not only how smart they are, but how well they will care for patients."
After graduation, Mutter will perform his residency at Mountain Area Health Education Center in Asheville, N.C., which serves a region of the state with a shortage of primary care providers. He's excited to start his career as a primary care physician there because of the center's strong emphasis on education and because it "has strong ties with the community to meet the needs of patients beyond the clinic."
As a believer that clinicians and care cannot exist in isolation from the communities and residents being served, Mutter wants to develop new models of care that unite patients with their medical providers, especially in rural communities that lack all the necessary resources to improve residents' health. He wants to build on examples he's seen during his time at UVA, such as the Healthy Appalachia Institute or UVA Pediatrics in Orange, which opens its doors to host meetings with community groups.
As an example, doctors frequently recommend that patients go for walks as a way of getting exercise and improving their health. But many rural communities lack sidewalks, making a walk dangerous. So doctors may need to join forces with community groups, helping them lobby legislators or assist with grant requests to get a sidewalk built.
"I'm very passionate about tying what we do in the clinic to what we do outside the clinic, to connect the medical neighborhood to the patient's neighborhood," Mutter said.
Faculty members whom Mutter worked closely with believe his influence could spread far beyond any one neighborhood or region.
"We need skilled leaders with passion and courage to change the way health care is provided in our nation," Reed wrote. "Justin has this potential."