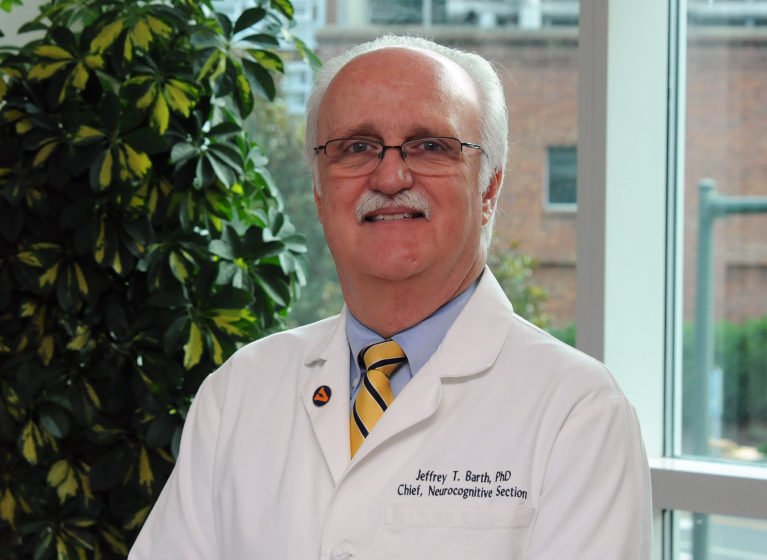 For helping treat active-duty soldiers with traumatic brain injuries and serving as a consultant on concussions to the U.S. Department of Defense , University of Virginia Health System neuropsychologist Jeffrey Barth , PhD, has earned a statewide honor.
Barth, director of UVA Health System's Brain Injury and Sports Concussion Institute, recently received the 2013 "Toggle" award from the Virginia Department for Aging and Rehabilitative Services. The award is named for the "Doonesbury" comic strip character Leo "Toggle" DeLuca, who suffered brain injury during his Army service in Iraq.
"The Toggle award was designed to recognize individuals who are responding to the needs of our everyday wounded warriors" said Virginia Department for Aging and Rehabilitative Services Commissioner Jim Rothrock. "Jeff Barth's one-on-one work, as well as his research, in helping some of our veterans reacclimatize following injury is truly noteworthy."
Barth, who performed pioneering research on sports concussions during the 1980s, became a Department of Defense consultant approximately 10 years ago as the military sought guidance on how to identify and treat soldiers suffering concussions and other forms of traumatic brain injury (TBI) from improvised explosive devices in Iraq. Barth is part of a group of clinicians who have worked with the Department of Defense to develop concussion management guidelines.
Barth's work with the Department of Defense led to a job as the primary neuropsychology consultant for the Defense and Veterans Brain Injury Center in Charlottesville. At the center – closed by the Department of Defense earlier this year – Barth was part of a team of therapists and clinicians that worked directly with active-duty soldiers who had suffered TBI. "Many of these soldiers had significant cognitive deficits based on multiple concussions. About 80 percent of them also had post-traumatic stress disorder," Barth said.
The residential program combined intensive therapy with efforts to re-acclimate soldiers to everyday routines, for instance by having patients visit restaurants and the movie theater on Charlottesville's Downtown Mall. For some patients, Barth said, "just being downtown was a major accomplishment."
What Barth enjoyed most about his work at the brain injury center was seeing how the program was able to help soldiers recover. "We got to see them go back to normal lives, back to their families, and in many cases go back to their military units," he said.
In addition to his work with the military, Barth is a member of the NFL Players Association Concussion Committee and works with the American Academy of Neurology on concussion management guidelines.