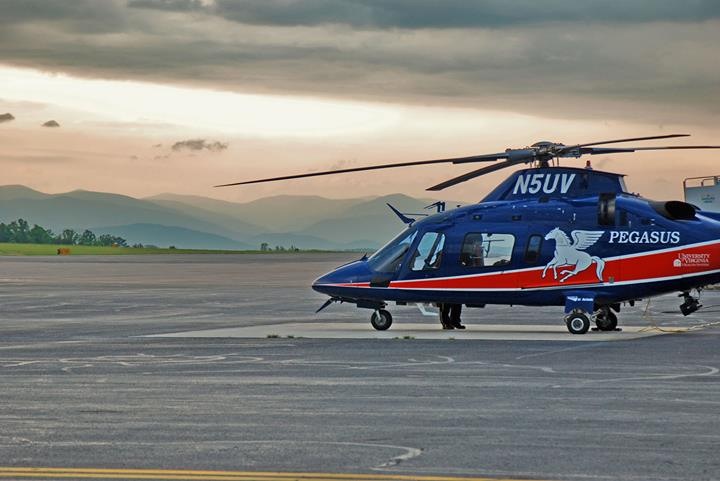 The helicopter and critical-care ground transport services provided by University of Virginia Health System's medical transport program have earned a three-year national accreditation.
The honor from the Commission on Accreditation of Medical Transport Systems (CAMTS) comes following a review of UVA's written application and an on-site visit earlier this year by CAMTS surveyors. UVA's medical transport network includes its medical communication network; its Newborn Emergency Transport System and Medic V ambulances; and the Pegasus rescue helicopter.
"We always strive to maintain the upmost in quality and safety with our patients," said Tim Hodge, manager of UVA's medical transport network. "CAMTS has independently evaluated and confirmed that we are following industry best practices."
Accreditation is based on meeting CAMTS standards in several areas, including:
Patient care Staffing Quality management Training Communications Equipment/supplies
In its review, CAMTS recognized UVA's medical transport team for its quality management process; its training protocols for physicians, pilots, EMTs and paramedics; and its use of GPS approaches to assist flight crews in landing at UVA and seven other local hospitals.
The accreditation process was also valuable for allowing UVA's medical transport team to review and find ways to improve their operations, said Sarah Ferrell, manager of emergency communications and special event medical management.
"Obtaining accreditation was a huge milestone for us, but the progress that our departments made during the application process was also something to be extremely proud of," she said.
UVA's medical transport team of 80 employees includes pilots, nurses and a variety of emergency medical personnel. Each year, the program transports approximately 6,500 patients.