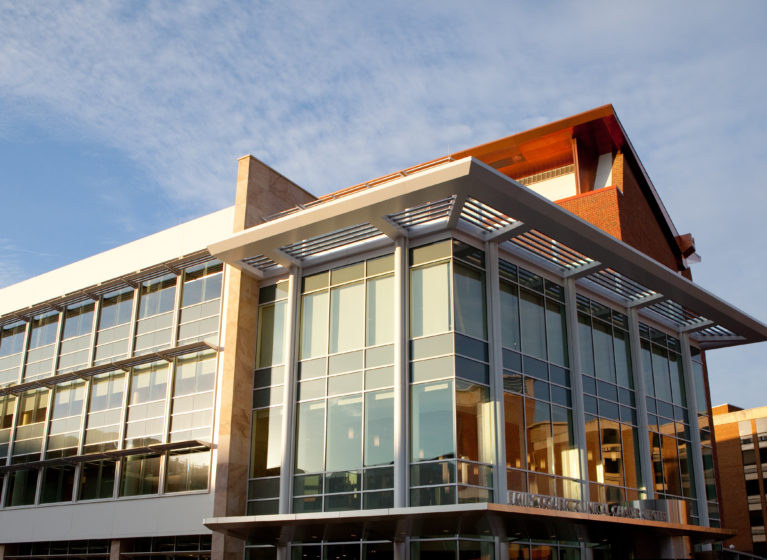 For meeting or exceeding 36 national quality care standards, University of Virginia Cancer Center has earned a three-year accreditation with commendation from the Commission on Cancer (CoC) of the American College of Surgeons.
Accreditation is earned following review of an application and a site visit from a Commission on Cancer physician surveyor. According to the CoC's website, "Accreditation of a cancer center is granted only to those facilities that have voluntarily committed to provide the best in cancer diagnosis and treatment and are able to comply with established CoC standards."
According to its website, CoC-accredited cancer centers offer:
A team approach to coordinating care and the availability of comprehensive, advanced treatment options. Information about ongoing clinical trials. Genetic counseling and palliative care services. Follow-up care once cancer treatment is completed.
"This accreditation highlights the work of our skilled team to provide the full range of cancer care," said Thomas P. Loughran Jr., MD, director of the UVA Cancer Center. "We serve our patients with everything from cutting-edge treatments and clinical trials to all of the support services patients and families need, such as counseling and our integrative medicine program."
UVA Cancer Center provides care throughout Central Virginia, both at the Emily Couric Clinical Cancer Center in Charlottesville and multiple clinics across the region – including Culpeper, Farmville and Augusta.
About UVA Cancer Center
UVA Cancer Center is accredited by the Commission on Cancer and is one of 67 National Cancer Institute (NCI) designated cancer centers in the U.S. for its work in cancer research, prevention, detection and treatment. UVA Cancer Center provides comprehensive, world-class cancer treatment in an environment of caring for patients across Virginia, led by doctors who have been honored by publications such as Best Doctors in America® and America's Top Doctors®.