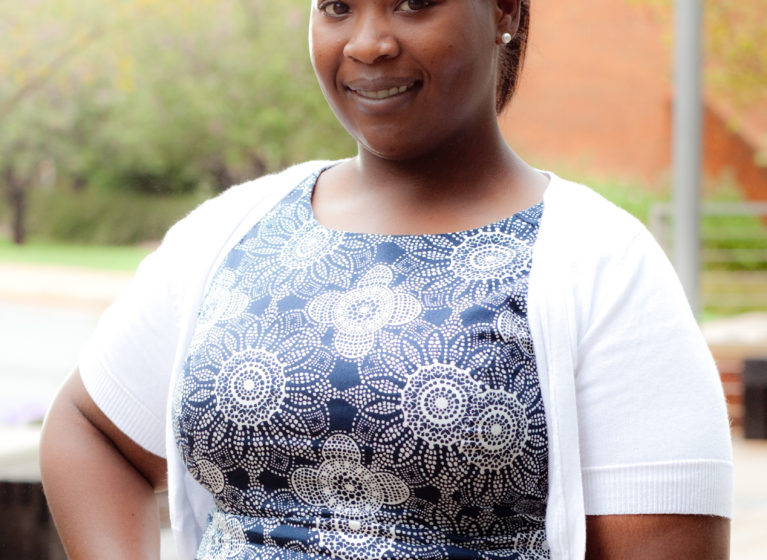 While 12-hour weekend shifts for nurses are typical, it's not common to do it while also attending medical school full-time. But that's what Mazvita Ethel Simoyi did during her first year at the University of Virginia School of Medicine , commuting every weekend to a hospital in Washington, D.C. to help pay for her education.
Now set to earn her M.D. degree from UVA this month, Simoyi laughed when asked how she endured the relentless schedule of work, schoolwork and commuting.
"I honestly do not know how I did it," she said. "Necessity makes you rise to the occasion."
Working Toward a Lifelong Dream
Simoyi knew she wanted to be a doctor from the time she was 5 or 6, when her father, Dr. Mike Simoyi, a general practitioner in Zimbabwe, brought her to his clinic to observe a tubal ligation. "I stood on a stool in the operating room, looking at him make the incision," she said.
As she got older, she helped direct patients at the clinic where her father worked with her mother Regina, a nurse. The time she spent there deepened her commitment to medicine.
"The patients [at my parents' clinic] are very, very grateful for the help they receive," she said. "My father is also very involved in public health, and educating people at a time when HIV and AIDS was beginning to get a lot of attention. That's why I wanted to be a doctor – so I could help people and share my knowledge with them."
To continue her path toward becoming a doctor, Simoyi came to the U.S. from Zimbabwe at age 17 to attend college. After beginning as a biology/pre-med major at Butler University, she transferred to Howard University in Washington, D.C., earning a nursing degree in 2007. She went into nursing so she could earn a living while taking the remaining pre-requisite classes for medical school and "ensure that medicine was 100 percent what I wanted to do."
After three years working as a nurse, she entered UVA's School of Medicine in 2010. But she wasn't quite done with nursing.
Full-Time Medical Student, Part-Time Nurse
During her first year as a med student, Simoyi worked weekends on a medical/surgical/oncology inpatient unit at Providence Hospital in Washington, D.C. She would leave Charlottesville around 5 p.m. Thursday or Friday for Washington, staying with her sister Nyasha or friends from Howard University when she wasn't at work. She would return to Charlottesville around midnight Sunday to get some sleep before waking up at 7 a.m. Monday to begin another week of med school classes.
During her second year as a medical student, she worked part-time in Charlottesville as a hospice nurse. She continued working as a nurse until November 2012, when she was no longer able to work weekends due to her medical school clerkship.
"Time management was what really saved me," she said.
Her commitment both to her education and her jobs impressed her classmates and faculty. "I was blown away by her work ethic," said Chad Lane, a member of her medical school class.
As a part-time pharmacist during his time in medical school, Simoyi's residency adviser, Dr. Shawn Pelletier , knows firsthand how tough her balancing act was. "It's a lot of work," he said. "While other people are studying or relaxing, you're spending time working to pay tuition."
The intelligent way Simoyi approached her dual responsibilities helped her do both successfully, said her adviser, Dr. Christine Peterson. "She knew exactly what she wanted to do. She's very grounded and very realistic," Peterson said. "She found nursing jobs that would mesh with the enormous amount of hours required for her studies."
Simoyi also believes the extra hours she put in as a nurse helped with her medical school class work. "When I was reading information from a textbook, I could translate it to my patients. It helped solidify the concepts because I could apply it right away instead of waiting two years [to begin my clerkship]," she said.
When Simoyi did a four-week rotation in transplant surgery with Pelletier, he saw that "she already had the textbook answers, had digested that and had moved onto the next step." In some cases, the only reply Pelletier had to her questions was: "That's a good question – we're trying to figure out the answer to that."
While her nursing work left her less time to spend outside of class with her fellow students, Simoyi said she very much enjoyed her time at UVA. Her classmates were very welcoming and inclusive, and she appreciated that she was part of a large group of students who had taken non-traditional journeys to medical school.
"I was happy to see how many people had taken different paths, like IT and working as financial advisers," she said.
Giving Back to Zimbabwe
This summer, Simoyi will begin a surgical residency at Baystate Medical Center in Springfield, Massachusetts. She chose surgery because she likes to work with her hands, figure out what's wrong with a patient and quickly see results.
"You fix an artery, and you get to see the effects of your work immediately," she said.
While she's not sure whether she will end up practicing medicine in the U.S. or Zimbabwe, Simoyi definitely wants to give back to Zimbabwe. "I want to have some impact in Zimbabwe, even if I'm not there physically. I want to do something to make health care better, either in education or through standards of care for patients."
Her classmates and teacher believe she is primed to succeed in whatever challenge she takes on next.
"Surgery is physically demanding and it requires mental toughness," classmate Pranay Sinha said. "You have to be tough to go through what she has gone through."