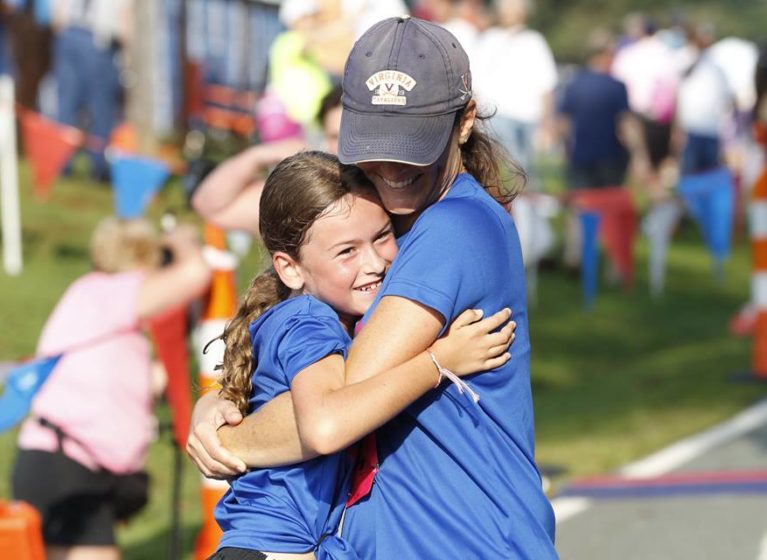 The Charlottesville Women's Four Miler set a new fundraising record this year, collecting $375,000 in donations for the University of Virginia Cancer Center's Breast Care Program. Breast Care Center leaders thanked the more than 3,500 runners and walkers – together with hundreds of volunteers and supporters – who teamed up to make the Aug. 30 race a success.
UVA leaders highlighted the work of race directors Cynthia and Audrey Lorenzoni along with Pam Whorley, who directs the Women's Four Miler Training Program.
"Our team at the Breast Care Center is so appreciative for everyone who donates their time, effort and money to support our programs at UVA," said Jennifer Harvey, MD, co-director of the Breast Care Program.
The money raised through the Women's Four Miler supports various programs at the UVA Breast Care Center, including mammograms and genetic testing for women who would otherwise be unable to afford services, resources for newly diagnosed breast cancer patients and breast cancer research at UVA Cancer Center.
Over the past 22 years, the race has raised more than $2.8 million to support the UVA Breast Care Program. "Every day, the donations from the Women's Four Miler help us enhance the quality care we provide to our patients," said David Brenin, MD, co-director of the Breast Care Program.
About UVA Cancer Center
UVA Cancer Center is accredited by the Commission on Cancer and is one of 67 National Cancer Institute (NCI) designated cancer centers in the U.S. for its work in cancer research, prevention, detection and treatment. UVA Cancer Center provides comprehensive, world-class cancer treatment in an environment of caring for patients across Virginia, led by doctors who have been honored by publications such as Best Doctors in America® and America's Top Doctors®.