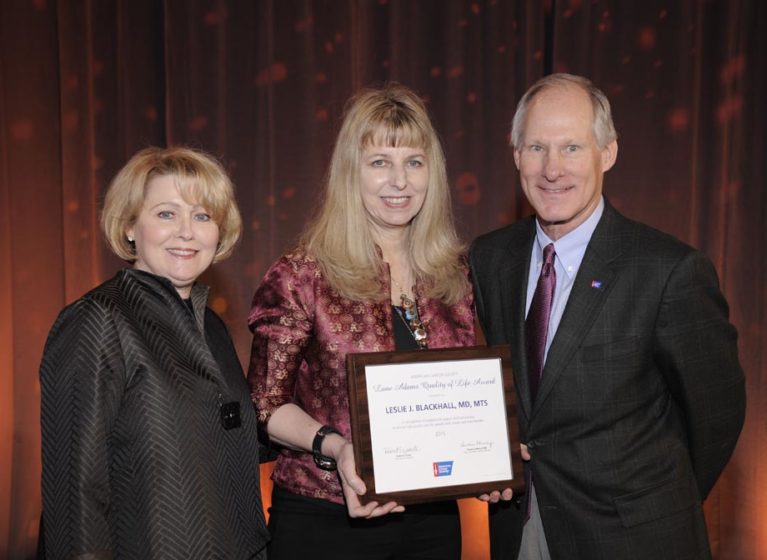 The American Cancer Society has honored Leslie Blackhall, MD, MTS, the founder of the Palliative Care Clinic at UVA Cancer Center, with a national award for improving cancer patients' quality of life.
Blackhall is one of seven winners of the 2015 American Cancer Society Lane W. Adams Quality of Life Award. The American Cancer Society said it recognizes individuals like Blackhall who provide what Adams – a longtime American Cancer Society executive vice president – described as the "warm hand of service."
"They are driven to provide excellent care not for awards or recognition, but for the satisfaction of knowing they made a difference in someone's life," said Susan Henry, chair of the American Cancer Society Lane W. Adams Award Workgroup.
Helping More Patients Benefit from Palliative Care
Blackhall was honored for her work in palliative care, which helps patients through pain relief and managing their symptoms. Driven by the death of her father from leukemia when she was 8 years old, Blackhall said she felt a calling to provide patients with excellent end-of-life care.
At UVA Cancer Center, she began one of the first outpatient palliative care clinics in 2001, seeing patients a half day each week. As the clinic has expanded over the past 14 years – it now cares for patients five days a week – so too has the use of palliative care beyond end-of-life care to help patients at all stages of fighting cancer.
"Why should a patient have to give up chemotherapy to get pain control?" she asked. "Palliative care has evolved from end-of-life care to a complement to cancer care both during and after treatment."
The improvements in quality of life through palliative care can be dramatic, Blackhall said. "[At one clinic visit] I may see someone in tears because they hurt so much," she said. "When they come back and say, 'I was able to go shopping,' or 'I could enjoy time with my grandchildren,' that is so satisfying to me."
Integrating Quality of Life with Quality Care
Blackhall has also been part of a multidisciplinary team at UVA developing a new model for cancer care that seeks to shorten treatment courses and more rapidly respond to patient symptoms to enhance both patient care and quality of life. The program has earned more than $2.5 million in funding from the federal Centers for Medicare and Medicaid Services.
Blackhall leads the supportive care and pain management team, which seeks to provide rapid care in response to patients' symptoms.
"All patients can benefit from care that improves the quality of their lives, from listening to their concerns and from the development of highly personalized care plans that are unique to their needs," said radiation oncologist Paul Read, MD, PhD , who has led the development of this new care model. "Dr. Blackhall has built a new patient-centric care model that does all of this while respecting the dignity and wishes of her patients and their families."