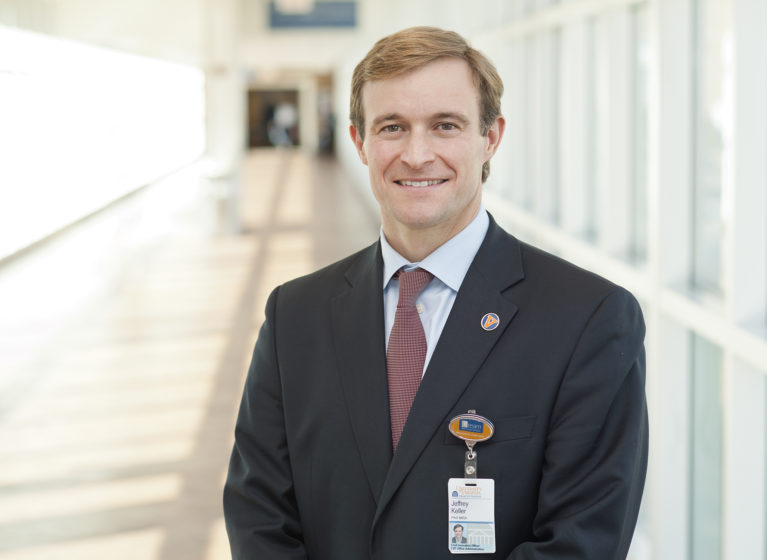 University of Virginia Health System has named Jeffrey Keller, PhD, as its first Chief Innovation Officer to help turn scientific discoveries into new and better treatments to serve patients at UVA and beyond.
With his wide-ranging work and educational history, Keller's aim is to serve as a facilitator between clinicians faced with challenges to improving patient care and researchers who may have found a solution in their labs. His goal is to quickly identify, develop and determine the effectiveness of new technologies and treatments.
"Jeff has both a scientific and a business background, and he has a great understanding of the biotech ecosystem," said Richard P. Shannon, MD, UVA's executive vice president for health affairs. "Jeff will work at the interface between new discovery and new application of ideas across our health system. He will work with frontline nurses and clinicians to understand how technology might enable their work. All of this effort is designed to focus our discovery on the betterment of the human condition."
Keller, 41, has worked in biomedical research, business and the development of early stage technologies. He has a doctorate in cell and developmental biology from Vanderbilt University and performed post-doctorate research at Massachusetts Institute of Technology's David H. Koch Center for Integrative Cancer Research. Keller has also worked as an investment banker and in operating roles at GE Healthcare and most recently founded a company that develops molecular diagnostics to improve the management of urological cancers.
Keller now seeks to bring his blend of biomedical and business experience to help spur breakthroughs that could reach patients far beyond Charlottesville.
"The challenges we face at UVA Health System are not unique to us," Keller said. "So if we come up with a solution, it may have applications far beyond UVA."
Keller said he will use his experience in investment banking as well as large and startup healthcare companies to determine the best way to commercialize promising treatments and technologies to reach more healthcare providers and patients.
Keller is hopeful that serving as a bridge between researchers and clinicians will better serve patients.
"My goal is to help put UVA on the map as a research institution that translates discoveries to benefit patients," he said.