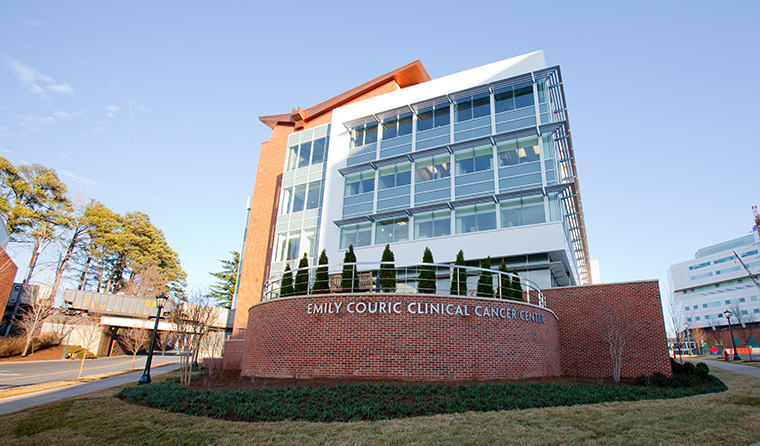 For its high-quality care, the UVA Breast Care Program has earned full accreditation from the American College of Surgeons' National Accreditation Program for Breast Centers (NAPBC).
The three-year accreditation follows a review that includes both an in-person survey and a written application. According to the NAPBC, accreditation "is only given to those centers that have voluntarily committed to provide the highest level of quality breast care and that undergo a rigorous evaluation process and review of their performance."
"NAPBC accreditation challenges breast cancer centers to enhance the care they provide by addressing patient-centered needs and measuring the quality of the care they deliver against national standards," said Tracey Gosse, MBA, MSN, RN-BC, Breast Care Program manager. "I am proud of our entire team for their hard work to meet these standards every day."
Centers that earn accreditation meet national standards in areas that include quality improvement, clinical management, research, prevention and early detection programs, staff education and community outreach. According to the NAPBC, accredited centers provide access to quality breast care close to home that feature:
comprehensive care, including a full range of state-of-the-art services
a multidisciplinary team approach to coordinate the best treatment options
information about clinical trials and new treatment options
The UVA Breast Care Program has an interdisciplinary group of specialists to help women with breast cancer and benign breast diseases, including radiologists, breast surgeons, oncologists, nurse practitioners, nurse navigators and genetic counselors.
Patients can also access the latest screening and diagnostic technology, including 3D mammography, screening breast ultrasound breast MRI. Available support services include nutrition counseling and exercise planning. As part of the UVA Cancer Center, a National Cancer Institute-designated cancer center, the Breast Care Program also provides access to groundbreaking clinical trials.
"I congratulate our physicians and team members for earning this accreditation through their commitment to serving our patients with the latest treatments in a supportive, caring environment," said Pamela M. Sutton-Wallace, chief executive officer of UVA Medical Center.