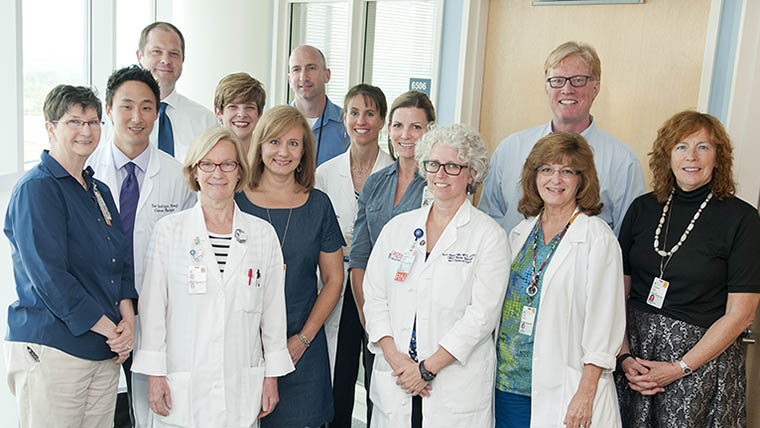 For providing high-quality care for stroke patients with complex health needs, the University of Virginia Stroke Center at UVA Medical Center has received national certification as a Comprehensive Stroke Center.
UVA is just one of just three stroke centers in Virginia – and the only center in Charlottesville and the Shenandoah Valley – to earn Comprehensive Stroke Center certification from the Joint Commission, an accrediting group for hospitals, along with the American Heart Association and the American Stroke Association. The certification follows a site visit where surveyors measure how well stroke centers comply with stroke care standards and use evidence-based guidelines to provide the best care. Approximately 3 percent of hospitals nationwide have earned this Joint Commission certification.
"This is a tremendous honor for our Stroke Center physicians and team that highlights their dedication to providing excellent care whenever it is needed, using the most advanced procedures and imaging," said Pamela M. Sutton-Wallace, chief executive officer of UVA Medical Center.
Primary Stroke Centers frequently refer patients that need complex care to Comprehensive Stroke Centers. Services provided at Comprehensive Stroke Centers include:
a dedicated intensive care unit that is staffed around the clock
care for patients with strokes caused by blocked blood vessels in the brain (ischemic stroke) as well as brain bleeding (hemorrhagic stroke)
advanced imaging to help diagnose strokes
quickly delivering intravenous tissue plasminogen activator (tPA) – a clot-busting drug – to treat ischemic stroke
Comprehensive Stroke Centers such as UVA also help coordinate care for stroke patients after they are discharged from the hospital and conduct research to help improve care for stroke patients.
"We are committed to providing the highest-quality care to all stroke patients, including patients that need complex care, and through our research we are seeking new and better ways to care for our patients," said Beth Hundt, PhD(c), MS, NP-C, ACNS-BC, Stroke Program Director at UVA.
Earlier this year, the UVA Stroke Center also received the Gold Plus and Target: Stroke Elite Plus Honor Roll recognition from the American Heart Association's Get With The Guidelines-Stroke® program for UVA's commitment to quality stroke care.
"These honors for our stroke team reflect their dedication to providing excellent, timely care as well as finding ways to enhance our care and service," said Richard P. Shannon, MD, UVA's executive vice president for health affairs.