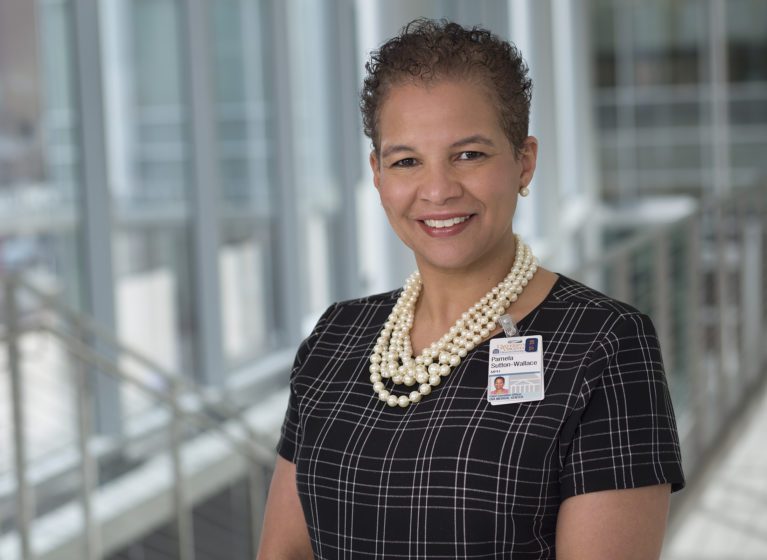 Pamela M. Sutton-Wallace, chief executive officer of University of Virginia Medical Center since July 2014, has been honored among Modern Healthcare's 2018 list of the Top 25 Minority Executives in Healthcare.
"Our Top 25 Minority Executives in Healthcare are making a difference in the industry and their communities. And their professions," wrote Aurora Aguilar
, Modern Healthcare's editor, in a letter introducing the awardees.
In honoring Sutton-Wallace, Modern Healthcare highlighted UVA Health System's planning for August's white supremacist rallies in Charlottesville as well caring for those injured that weekend. Sutton-Wallace was also noted for her leadership in improving quality and safety outcomes (such as reducing c. difficile infections by 35 percent in 2017) and helping establish a statewide pediatric care network.
Richard P. Shannon, MD, UVA's executive vice president for health affairs, wrote in a letter supporting her nomination that Sutton-Wallace has played a vital role in enhancing patient safety and outcomes as well as helping UVA become the No. 1-ranked hospital in Virginia by U.S. News & World Report.
"Starting with our daily Situation Room briefing and continuing with frequent visits to our inpatient units, Pam's leadership has helped us provide better, safer care for our patients," Shannon said. "UVA Health System has made tremendous strides over the last four years, and those achievements in providing high-quality, patient-centered care would not have been possible without Pam's leadership, vision and commitment."
Sutton-Wallace said she was thrilled to receive the award and attributes this recognition to the team members at UVA Medical Center for their dedication to excellence in patient care and unrelenting commitment to continuous improvement and outcomes. "I consider it a privilege to serve in the medical center alongside the nation's best caregivers as well as those providing administrative and corporate services, without whom I would not have received this award," she said.
Modern Healthcare has honored Sutton-Wallace on two previous occasions. In 2016, she was named among 10 Minority Executives to Watch; while in 2007 she was a recipient of the national healthcare publication's Up & Comer award.
Sutton-Wallace will receive her award from Modern Healthcare during a ceremony July 18.