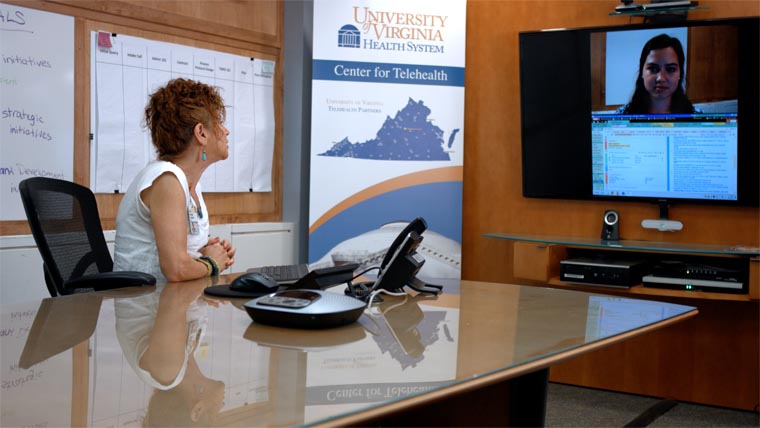 The Comprehensive Stroke Center at University of Virginia Health System recently performed its 1,000th telestroke consultation, enabling patients across Virginia to get treatment sooner and help prevent death or permanent disabilities.
"Our goal is to provide the exact same care via telestroke as you would receive walking through our doors at UVA," said Nina Solenski, MD, director of UVA's telestroke program, which is available 24 hours a day, seven days a week.
The telestroke program works with six partner hospitals to offer access to specialists at the UVA Stroke Center via secure, live video conferencing:
Augusta Health
Bath Community Hospital
Norton Community Hospital
Novant Health UVA Health System Culpeper Medical Center
Novant Health UVA Health System Haymarket Medical Center
Novant Health UVA Health System Prince William Medical Center
UVA's acute stroke team features stroke neurologists, neurointensivists, neuroradiologists, neurosurgeons and specially trained stroke care nurses and information technology experts, all made available through the Karen S. Rheuban Center for Telehealth at UVA.
As soon as a patient arrives in a partner hospital's emergency room and a stroke is suspected, the UVA telestroke team can connect with the emergency room to quickly confirm a diagnosis and direct treatment via video. Fast, effective treatment for a stroke is critical to saving patients' lives and preserving brain function; according to the American Stroke Association, an estimated 1.9 million neurons die each minute a stroke is not treated.
"There is no down time for our equipment because that could mean minutes lost for the patient – and when it come to stroke, those minutes matter," Solenski said.
UVA now does approximately 35 to 40 telestroke encounters each month, with the majority of patients remaining at their home hospital for care. That has included approximately 350 telestroke encounters at Augusta Health, which began its partnership with UVA in 2015.
"We can now offer patients in our community services that you typically can't receive at a smaller community hospital," said Adam Rochman, MD, Emergency Department medical director at Augusta Health.
Historically, patients were only evaluated for endovascular stroke treatment – the removal of a clot with a device – if they went to an academic medical center like UVA for emergency stroke care, Rochman said. "But through the UVA Telestroke Program, we can rapidly evaluate which patients are candidates and refer them [to UVA] so that they get treated quickly. It's been an excellent arrangement for both centers," he said.