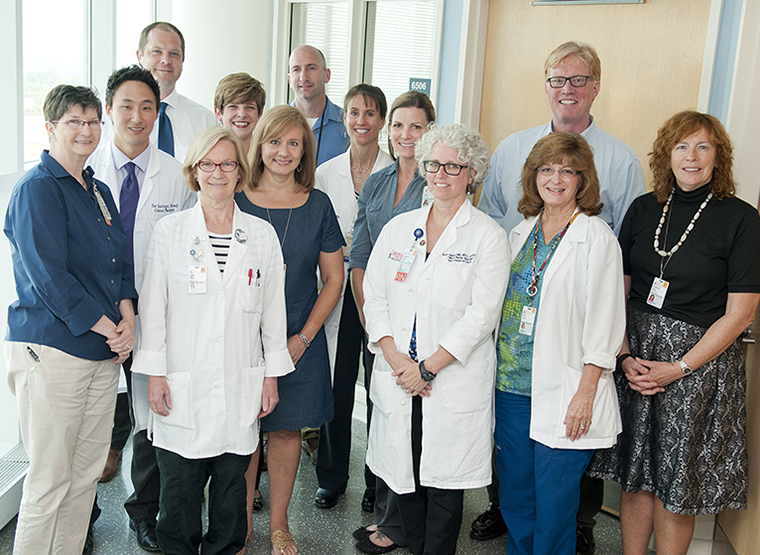 The Comprehensive Stroke Center at University of Virginia Health System has received two national quality awards for providing timely, high-quality stroke care based on national guidelines.
The American Heart Association and the American Stroke Association honored UVA with the Gold Plus and Target: Stroke Honor Roll Elite Plus awards from the Get With The Guidelines-Stroke®program.
"These national awards highlight our stroke team's ability to provide fast, excellent stroke care, as well as the follow-up care needed to help patients make a full recovery," said Pamela M. Sutton-Wallace, chief executive officer of UVA Medical Center.
To earn these awards, UVA met a host of evidence-based standards to improve outcomes for stroke patients, including:
Quickly providing tPA, a medication designed to break up the blood clots that cause most strokes.
Prescribing medications or other interventions to help prevent blood clots in veins that are often caused by a lack of mobility.
Providing stroke education to patients in the hospital.
Evaluating patients for stroke rehabilitation.
Providing patients with prescriptions for cholesterol-lowering statins.
Prescribing blood thinners to reduce the risk of stroke for patients with atrial fibrillation, a heart-rhythm disorder.
UVA's team of stroke specialists includes stroke neurologists, Emergency Department providers, neurosurgeons, interventional neuroradiologists, stroke-trained nurses, neurocritical care providers, pharmacists, speech therapists, radiology technicians, social workers, physical therapists and occupational therapists. The stroke team at UVA is on call 24 hours a day, seven days a week to provide the full range of stroke care, including procedures to remove blood clots that cause strokes.
"Providing excellent stroke care requires not only our dedicated team at UVA, but partnerships with our local rescue squads as well as quick action by family members or loved ones who see stroke symptoms and call 911," said Beth Hundt, PhD, APRN, NP-C, ACNS-BC, stroke program director at UVA. "It's wonderful to see our team and our community partners receive this recognition."