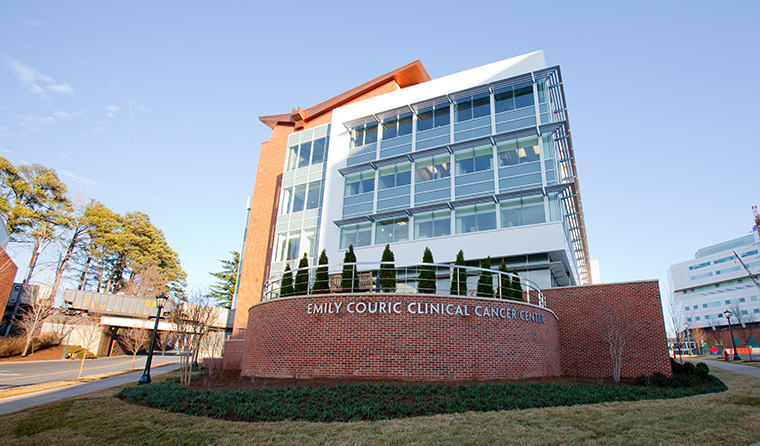 National healthcare publication Becker's Hospital Review has named the University of Virginia Cancer Center at UVA Medical Center to its 2018 list of 100 hospitals and health systems with great oncology programs. This is the sixth consecutive year UVA has been recognized by Becker's for quality care, and UVA is the only health system in Virginia named to the 2018 list.
"The hospitals and health systems selected for this list are at the forefront of cancer treatment and research," wrote Becker's in an introduction to the list. "Hospitals and health systems highlighted here have invested in growing oncology departments and regional cancer centers, providing an important service to patients locally and nationally."
Thomas P. Loughran Jr., MD, director of the UVA Cancer Center, said the honor recognizes the comprehensive work of UVA care providers and researchers to provide high-quality care to patients while also seeking better treatments through research and clinical trials. "Our team members – whether they are in a research lab or at a patient's bedside – are always looking for ways to improve the care our patients receive," he said.
Becker's highlighted UVA's top-50 ranking for cancer care in U.S. News & World Report's 2018-2019 "Best Hospitals" guide while also noting UVA's deep commitment to research. The publication cited UVA's $20.4 million in research funding from the National Institutes of Cancer in 2018 along with its membership in the Oncology Research Information Exchange Network (ORIEN), a national cancer research network with goals including more personalized care for patients with cancer.
"Through our innovative, research-based treatments, we're able to offer unique care options for our patients," said Pamela M. Sutton-Wallace, chief executive officer of UVA Medical Center. "Providing leading-edge, high-quality care for patients with cancer is a true team effort, and I commend everyone at UVA Health System for their service to our patients."
Becker's lists the health systems named to its list in alphabetical order and does not rank them.