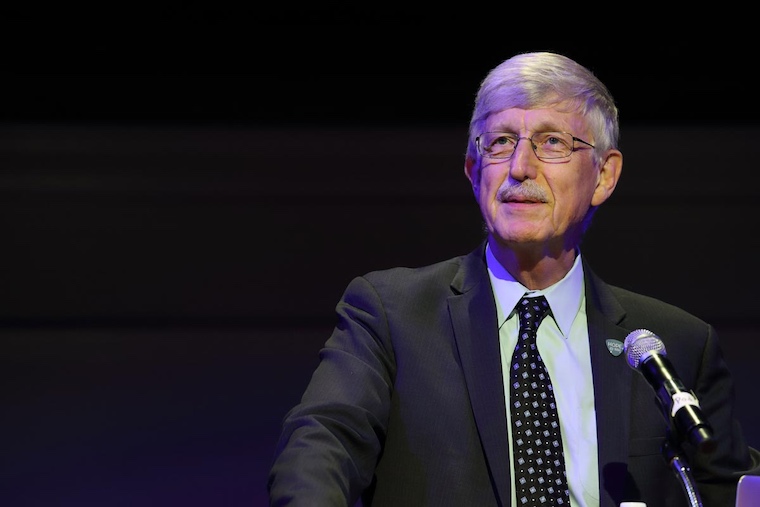 The University of Virginia Board of Visitors voted Saturday to rename the Barringer Wing at the UVA Medical Center West Complex as the Collins Wing in honor of UVA alumnus Dr. Francis S. Collins, one of America's most eminent scientists.
Collins is perhaps best known for serving as director of the National Human Genome Research Institute, where he led the international Human Genome Project. That project culminated in 2003 with the publication of a finished sequence of the human DNA instruction book. Since 2009, he has served as director of the National Institutes of Health, America's medical research agency.
"Dr. Collins has led significant and groundbreaking scientific discoveries and championed biomedical research that has improved the human condition and done so in a compassionate way," said Pamela M. Sutton-Wallace, acting executive vice president for health affairs at UVA and chief executive officer of UVA Medical Center. "We are honored to recognize his contributions to science and improving the health of countless Americans."
Collins received a Bachelor of Science degree in chemistry from UVA in 1970, followed by a PhD in physical chemistry from Yale University in 1974 and an MD from the University of North Carolina School of Medicine in 1977. He was awarded the Presidential Medal of Freedom in November 2007 and received the National Medal of Science in 2009. Collins is also a member of the National Academy of Medicine and the National Academy of Sciences. 
Collins has been a strong advocate for protecting the privacy of genetic information and has led efforts to prohibit discrimination based on genetic profiling in insurance.
"Dr. Collins is known and respected around the world for his path-breaking work in genetics and the Human Genome Project," said UVA President Jim Ryan. "Throughout his career, Dr. Collins has also focused on the legal and ethical issues involving genetics. His careful, principled consideration of these issues, combined with his immense achievements as a scientist, make him an ideal person for this honor."
Located along Hospital Drive, the Collins Wing is home to several clinics and research labs. It was originally named the Barringer Wing for Paul Brandon Barringer, a physician who served as chairman of the University of Virginia faculty from 1896 to 1903. Many of Barringer's research conclusions, including his support for eugenics, have been discredited.
A ceremony will be held at a later date to commemorate the naming of the Collins Wing.