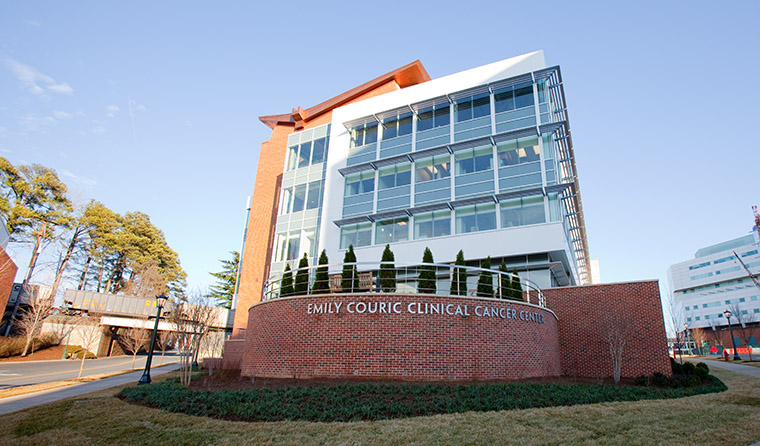 The 3 West hematology/oncology clinic at the University of Virginia Cancer Center has earned a national patient experience award based on excellent ratings from patients.
"It's so rewarding to have the work of the entire team recognized for the great work that they do," said Devon Bloxsom, the 3 West clinic manager at the Emily Couric Clinical Cancer Center. "Each team member treats every patient with the utmost respect and tries to make their visit a positive one."
The clinic's approximately 55 team members have received the 2020 Pinnacle of Excellence Award from Press Ganey, which supports healthcare providers nationwide in understanding and improving care delivery. The award recognizes healthcare providers who have maintained consistent levels of excellence for three years in the area of patient experience. Patients were surveyed about factors that included their likelihood to recommend the clinic and the teamwork among the clinic staff.
"The caregivers and staffs of these award-winning organizations touch the lives of countless millions across the country every day, and we are honored to recognize their extraordinary work," said Patrick T. Ryan, Press Ganey's chairman and chief executive officer. "To achieve these levels of success, leaders embraced the humanity of healthcare. They listened to the voices of caregivers and consumers and leveraged rich data and insights to inform targeted improvement strategies and drive the level of transformation needed to consistently deliver safe, high-quality care in the complex healthcare environment."
Robert Dreicer, MD, deputy director of UVA Cancer Center who sees patients in the 3 West clinic, said the Press Ganey results reflect the commitment of his colleagues to serve their patients.
"Irrespective of what our individual roles are, no one goes into healthcare for recognition," he said. "With that said, this award for me validates what I see every day – a team of healthcare professionals providing outstanding care of our cancer patients."