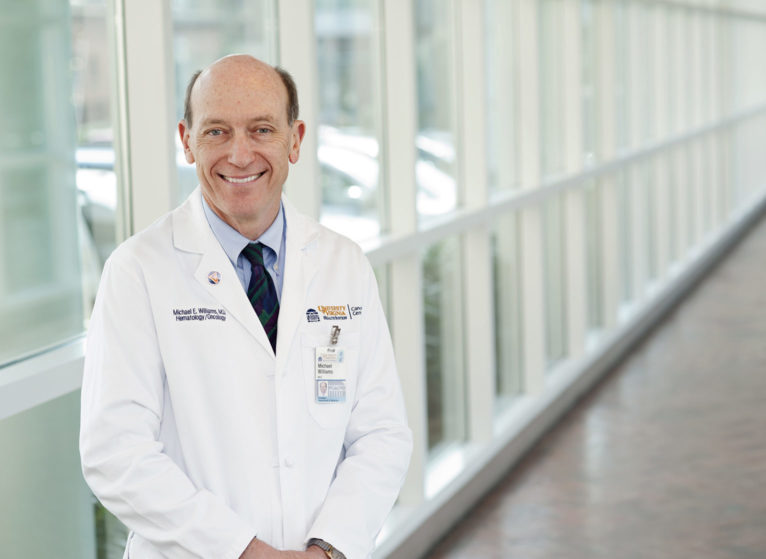 For his work to improve patient care and develop new therapies for mantle cell lymphoma (MCL), the Lymphoma Research Foundation honored UVA Health's Michael E. Williams, MD, this month with the Mantle Cell Lymphoma Leadership Award.
The associate director for clinical affairs at UVA Cancer Center, Williams was recognized for his contributions to scientific discoveries in the diagnosis and treatment of MCL and his leadership as the inaugural chair of the foundation's Mantle Cell Lymphoma Consortium. The consortium is composed of 150 international laboratory and clinical scientists focused on MCL.
"Dr. Williams has led the way in advancing our understanding of mantle cell lymphoma," said Meghan Gutierrez, chief executive officer at the Lymphoma Research Foundation. "His contributions to the LRF Mantle Cell Lymphoma Consortium have informed LRF's education programming and resources for patients and led to the growth of the Foundation's MCL research program – making LRF one of the largest private funders of research for this type of lymphoma. We are honored to present Dr. Williams with this award for his dedication to the LRF mission and service to the lymphoma community."
One of his proudest moments as a researcher, Williams said, was helping discover a better way to diagnose mantle cell lymphoma.
"Our discovery of the key molecular alteration in mantle cell lymphoma provided the means to specifically diagnose this malignancy and to test new treatments, which in turn led to a remarkable increase in therapeutic options and improved patient survival over the past 20 years," he said.
Williams' research interests are in novel therapeutic approaches for non-Hodgkin's lymphomas, MCL and chronic lymphocytic leukemia, including targeted agents and immunotherapies. In addition to the Mantle Cell Lymphoma Consortium, he serves on the LRF Scientific Advisory Board and as co-chair for the LRF Oral Therapies in Lymphoma and Chronic Lymphocytic Leukemia Scientific Workshop series. He is a member of the European Mantle Cell Lymphoma Network and the Eastern Cooperative Oncology Group Lymphoma Core Committee.
"Many advances in the field of mantle cell lymphoma research have arisen from the Lymphoma Research Foundation's presence in this area, and by their ability to catalyze work with the greatest potential to create an impact on this disease," Williams said. "I am honored to work with and be recognized by LRF, and look forward to our continued collaboration to drive scientific discovery and improve patients' lives."
About the Lymphoma Research Foundation
The Lymphoma Research Foundation (LRF) is the nation's largest non-profit organization devoted to funding innovative research and serving the lymphoma community through a comprehensive series of education programs, outreach initiatives and patient services. To date, LRF has awarded more than $67 million in lymphoma-specific research. For additional information on LRF's research, education and services, visit lymphoma.org.