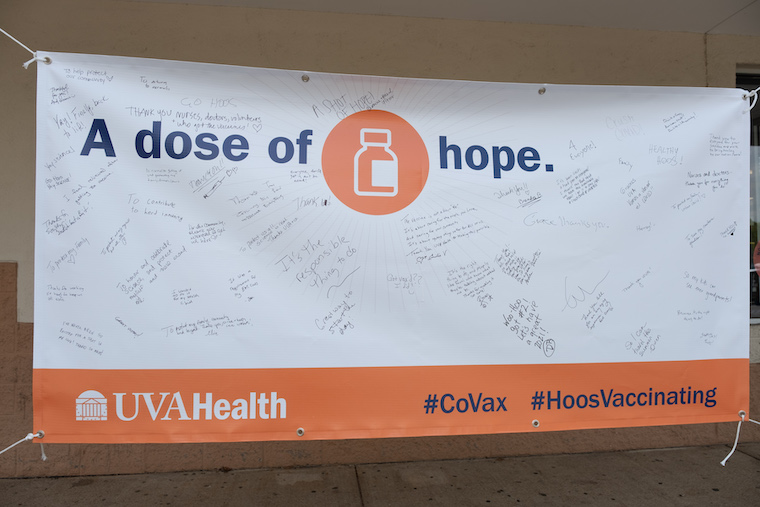 In the coming weeks, UVA Health will begin some changes to its community vaccination efforts, which include relocating its community vaccination center from Seminole Square to the West Complex at UVA Health.
UVA Health Community Vaccination Center Moving
The final day of operations inside the COVID-19 Vaccination Center at Seminole Square, located at 393 Hillsdale Drive, will be July 2.
Beginning July 7, COVID-19 vaccinations will be available at UVA Health's COVID Clinic on the first floor of the West Complex, located at 1300 Jefferson Park Ave. Appointments are still required, and can be made by calling 434.297.4829. Parking for the clinic is available in the Lee Street Garage and the 11th Street Garage.
Community members receiving their first vaccine dose at Seminole Square who have their second dose scheduled after July 2 will receive a second-dose appointment slip with written instructions (including directions and parking information) when they receive their initial dose.
Pop-Up Community Vaccination Events Winding Down
UVA Health's pop-up community vaccination events will end July 31, including the weekly vaccination events on Charlottesville's Downtown Mall The final Downtown Mall event is scheduled from 5:30-7:30 p.m. June 25. Beginning July 5, only second doses or the one-dose Johnson & Johnson vaccine will be available at the pop-up events. Vaccinations for homebound residents will continue.
"The Blue Ridge Health District has launched its mobile vaccination unit, and the Charlottesville Fire Department is expected to begin using its mobile unit soon," said Justin Vesser, a pharmacy supervisor at UVA Health. "With the number of vaccinations given at our pop-up events declining and more community-based doses available through our partners, we will shift our focus to other ways we can support vaccinating our community."
UVA Outpatient Pharmacies to Begin Offering Vaccinations
Vaccinations will also be available at select UVA Health outpatient pharmacies by appointment during July, beginning at the pharmacy located in the Education Resource Center across from UVA Medical Center. An exact start date is still to be determined.