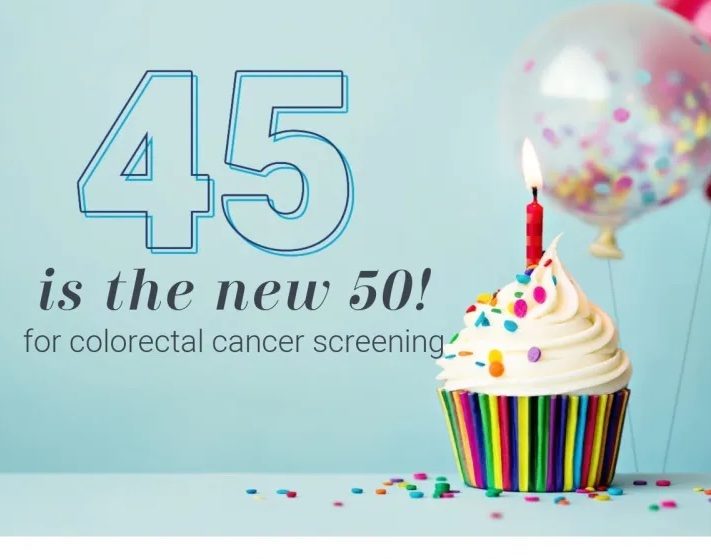 To commemorate Colorectal Cancer Awareness Month, Virginia's two National Cancer Institute-designated cancer centers are teaming up with the Virginia Colorectal Cancer Roundtable (VCCRT) to highlight new guidelines recommending that colorectal cancer screenings should begin at age 45 for most Virginians.
The goal of the University of Virginia Cancer Center and Virginia Commonwealth University Massey Cancer Center is to boost the percentage of Virginians who are up to date on their colorectal cancer screenings from 70.8% to 80%.
Increasing screening is critical, as colorectal cancer is the third leading cause of death in men and women, and an estimated 10.5% of new colorectal cancer cases occur in people younger than 50. Colorectal cancer diagnoses among Americans ages 40 to 49 increased by almost 15% from 2000-02 to 2014-16, according to the U.S. Preventive Services Task Force. Based on those figures, the task force updated its colorectal cancer screening guideline recommendations in May 2021, lowering the age to begin screening to 45.
In response to the updated guidelines and low screening rates in Virginia, the two cancer centers worked with the roundtable to develop a free toolkit for patients and healthcare providers to boost awareness of the new screening recommendations. The toolkit can be downloaded by visiting the roundtable's website at cancercoalitionofvirginia.org/vccrt.
"Working together with our colleagues from VCU and the Virginia Colorectal Cancer Roundtable, we are proud to bring together talented, passionate individuals who are committed to work toward our common goal to decrease the burden of colorectal cancer in Virginia," said VCCRT co-chair Cynthia Yoshida, M.D., AGAF, a UVA Health gastroenterologist and medical lead for the UVA Cancer Center's Colorectal Cancer Screening Program.
"In light of the updated guidelines, we want to bring together cancer experts who are actively engaged with younger communities," said VCCRT co-chair Michael Preston, Ph.D, M.P.H., an assistant director with VCU Massey's Office of Health Equity & Disparities Research-Community Outreach and Engagement. "This was a great opportunity for both NCI-designated cancer centers in Virginia along with VCCRT to showcase their collaborative efforts and future plans for engaging younger communities where colorectal cancer is on the rise."