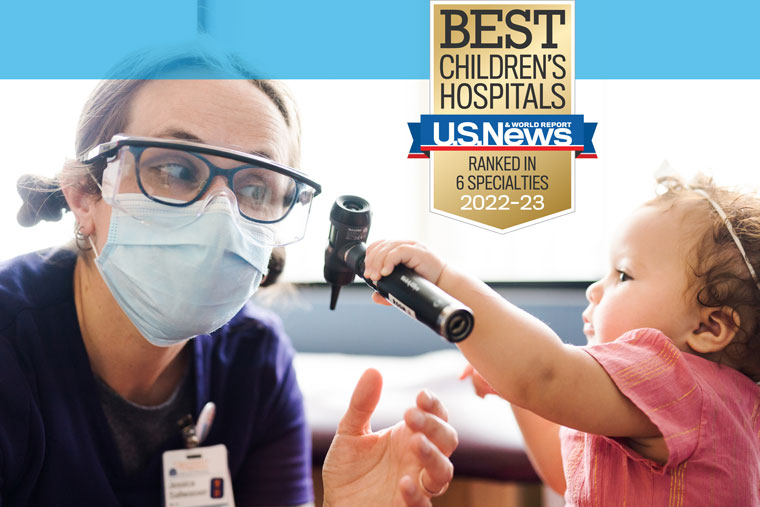 UVA Children's, part of UVA Health, has been named the No. 1 children's hospital in Virginia for the second consecutive year by U.S. News and World Report.
The publication's 2022-23 "Best Children's Hospitals" guide also ranked six UVA Children's specialties among the top 50 nationally in their fields. The six ranked specialties:
"Our team at UVA Children's provides incredible, lifesaving care for patients and families across Virginia and beyond," said K. Craig Kent, UVA Health's chief executive officer and UVA's executive vice president for health affairs. "This honor from U.S. News highlights our team's excellent care for our youngest patients."
The U.S. News Best Children's Hospitals guide identifies hospitals providing the highest-quality care for children with the most serious or complicated healthcare needs. The rankings are based on several factors, including patient outcomes, the availability of specialized clinics and programs, patient safety measures and a national survey of pediatric specialists.
"As a member of the UVA Children's team, I see every day the commitment to providing extraordinary care to our young patients and their families," said James Nataro, MD, PhD, MBA, chairman of the Department of Pediatrics at UVA. "I am honored to work alongside this incredible team, and I am thrilled to see their hard work recognized nationally."
"These awards are another example of the skill of our team in providing highly specialized, high-quality care to all the patients we serve," said Wendy Horton, PharmD, MBA, UVA Medical Center's chief executive officer. "I want to thank and commend our UVA Children's team for the excellent care they provide for children."
About UVA Children's
UVA Children's provides primary and specialty care in more than 30 specialties throughout the commonwealth and beyond. Located within UVA Medical Center, UVA Children's includes 111 beds, a dedicated pediatric emergency department, a Neonatal Intensive Care Unit for infants and a Pediatric Intensive Care Unit for children younger than 18. The UVA Children's Ambulatory Clinics at the Battle Building, which opened in 2014, provide integrated outpatient care to families from throughout the region.