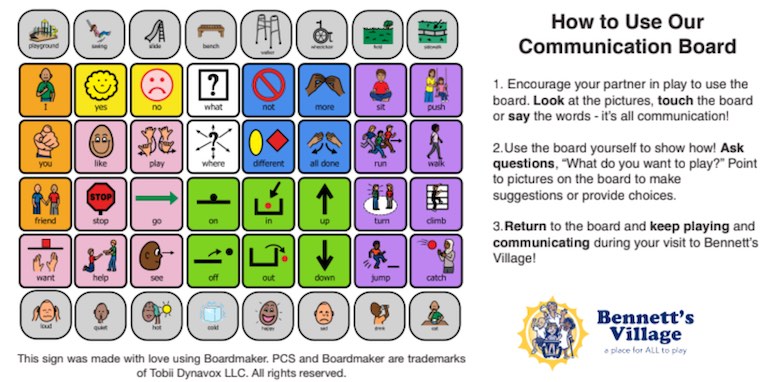 A doctor training at UVA Health has won funding to install a communication board at Pen Park that will enable children and adults who are unable to speak to better communicate with others.
Emily Hillaker, DO, a chief resident of physical medicine & rehabilitation at UVA, was selected as the first recipient of the Rob Gotlin Community Leadership Grant from the American Osteopathic College of Physical Medicine and Rehabilitation. The $1,500 grant supports innovative projects that reduce physical or environmental barriers for individuals with disabilities. The communication board uses a mix of pictures, symbols and words to help people who are unable to talk express themselves.
"As a resident physiatrist with plans to complete a pediatric rehabilitation medicine fellowship, I knew I wanted to support and advocate for children with disabilities," Hillaker said. "I discovered Bennett's Village, which is an organization that plans to completely renovate Pen Park to make it completely accessible. I knew then that this organization was most deserving of the grant, and so I applied for it on their behalf."
The Bennett's Village team is fundraising to build an accessible treehouse at Pen Park, phase one of a larger vision to build a multi-generational, all-abilities playground covering more than 3 acres. Plans for the communication board are one step in an ongoing effort to make more inclusive and accessible playspaces in Charlottesville, said Kara McClurken, co-founder of Bennett's Village.
"Not only do communication boards provide a means for our non-verbal neighbors to communicate wants, needs and desires, but these boards also send a message to the entire community that this is a space where we want all to feel welcome and included," she said. "Play is for everyone, but sometimes there are barriers for 1 in 4 members of our community with a disability. A communication board can lower some of those barriers for some of our neighbors."