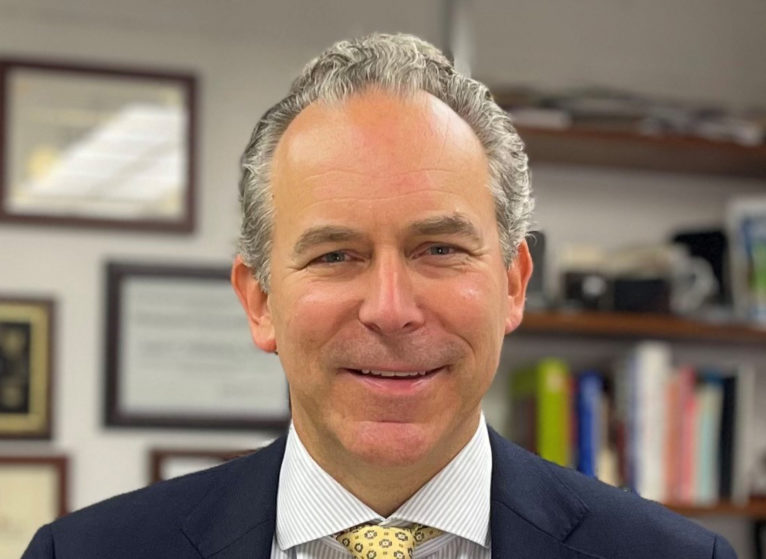 The School of Medicine has recruited internationally recognized plastic surgeon Scott T. Hollenbeck, MD, FACS, to lead its Department of Plastic and Maxillofacial Surgery. He succeeds Stephen Park, MD, FACS, who has served as the interim chair of the Department of Plastic and Maxillofacial Surgery since May 2020.
"Dr. Hollenbeck's talents as a surgeon, researcher and educator have made him a national leader in academic medicine," said Melina R. Kibbe, MD, the dean of the School of Medicine and chief health affairs officer for UVA Health. "He is ideally suited to lead our excellent Department of Plastic and Maxillofacial Surgery to even greater accomplishments in service to our patients and future generations of physicians and scientists."
Hollenbeck comes to UVA from Duke University/Duke Health, having served as Vice Chief of Research for the Division of Plastic, Maxillofacial, and Oral Surgery, director of The Human Fresh Tissue Lab, director of Breast Reconstruction, and director of the world-renowned Duke Flap Course, which teaches reconstructive surgery techniques to plastic surgeons from all around the world.
A specialist in breast reconstruction following cancer treatment, Hollenbeck holds several leadership positions in plastic surgery, including Vice President of Education for the American Society of Plastic Surgeons. The co-author of more than 100 peer-reviewed research publications, he focuses on the effect of obesity and tissue inflammation on breast cancer progression. He also holds several patents and has helped launch a biotechnology startup company. His research has been funded by the National Institutes of Health, Coulter Foundation, Plastic Surgery Education Foundation and the Southeastern Society of Plastic and Reconstructive Surgeons, among others.
In addition to his patient care and research, Hollenbeck has worked to address healthcare disparities in the Durham, N.C., area by performing community-based studies to identify barriers to care. During his residencies and academic career, he has received several teaching awards for his work in medical student education.
"Dr. Hollenbeck has an extraordinary reputation for his commitment to advancing medicine and improving patient care," said K. Craig Kent, MD, chief executive officer of UVA Health and executive vice president for health affairs at UVA. "I look forward to seeing what he will accomplish in collaboration with our excellent faculty in the Department of Plastic and Maxillofacial Surgery."
Executive Vice President and Provost Ian Baucom noted that "Dr. Hollenbeck's appointment will be the latest step in cementing UVA's School of Medicine as one of the nation's leading public medical schools."
Hollenbeck earned his medical degree from The Ohio State University, then completed his residency in surgery at New York-Presbyterian - Cornell and a research fellowship in wound healing and vascular biology at Weill Cornell Medical College. He subsequently completed a residency in plastic surgery at Duke University Medical Center.
Hollenbeck said he was attracted to UVA by its influential tradition in plastic surgery pioneered under the leadership of Milton Edgerton, MD; Raymond Morgan, MD; and many others. "Just look around the country and count all the highly regarded plastic surgeons who have trained at UVA. It's really impressive and comparable to any program I can think of," he said. "This program has amazing history and is well positioned to attract and develop the next generation of impactful plastic surgeons. With the engaged and dynamic leadership of Dr. Melina Kibbe, Dr. Craig Kent, and Wendy Horton, the sky is the limit for UVA Plastic Surgery."
Hollenbeck will join UVA on November 28, 2022.